Crime, Corruption Killing Guatemalan Bus Drivers
Crime, Corruption Killing Guatemalan Bus Drivers
In Guatemala, bus drivers are being gunned down at an alarming rate. The hazardous situation on Guatemala's buses is a result of a confluence of corruption, crime and poverty. The Guatemalan government pays millions of dollars a year in subsidies to bus owners, yet the battered vehicles on the streets are mostly old school buses from the United States.
RENEE MONTAGNE, Host:
Another story we're following today involves a conflict in Guatemala. In that country, driving a bus can be lethal. Corruption, crime and poverty have led to deadly competition among rival bus owners and have also fueled an extortion racket. Armed gangs demand bribes from the drivers. Drivers who don't pay up often pay with their lives. More than 70 drivers have been killed already this year in Guatemala and the problem is especially bad in the capital, Guatemala City. NPR's Jason Beaubien reports.
(SOUNDBITE OF HORN HONKING)
JASON BEAUBIEN: In Zona Quatro on the northwest edge of Guatemala City, Percida Iguara(ph) is waiting for the Number 70 bus, one day after a driver on the line was assassinated behind the wheel. Iguara is terrified of the public buses, but she doesn't have a car and she says this is the only way to get around.
PERCIDA IGUARA: (Spanish spoken)
BEAUBIEN: Iguara says the situation on Guatemala's buses is out of control.
IGUARA: (Spanish spoken)
BEAUBIEN: Drivers rent the vehicles by the day and they get to keep whatever proceeds are left after paying for fuel, protection and a meager salary for a fare collector. The faster you go, the more money you make. And why stick to your route if you can veer off and poach your rival's passengers? Or you could literally just kill your competition.
ADAIR GUARA: (Spanish spoken)
BEAUBIEN: In addition, local gangs extort protection money or la renta from drivers who pass through their territory. Twenty-four-year-old Luis Enrique Shava(ph), who has been working as a bus assistant for six years, says drivers are scrounging just to make enough to eat. But he says drivers can't get away without paying la renta to the local street gangs.
ENRIQUE SHAVA: (Spanish spoken)
BEAUBIEN: Jason Beaubien, NPR News, Guatemala City.
NPR transcripts are created on a rush deadline by an NPR contractor. This text may not be in its final form and may be updated or revised in the future. Accuracy and availability may vary. The authoritative record of NPR's programming is the audio record.
Fed Up, Ordinary Guatemalans Turn To Vigilantism
Fed Up, Ordinary Guatemalans Turn To Vigilantism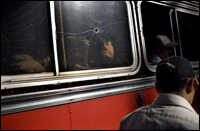 More In The Series
Part 1 reports on gangs in Guatemala and the sicarios — or hitmen — hired to kill their members.

Former Gang Members Talk
"El Flaco" describes his life as a gang member. The 26-year-old claims to have murdered 22 people. Read excerpts from the interview.

"El Cholo" is 20 years old. He has been a member of different gangs — or maras — and says he's killed 10 people. Read excerpts from the interview.

Warning: These interviews are graphic and some may find parts of them disturbing.
Assassins On Their Roles
Christian and Roberto are sicarios, or assassins. Christian left the National Civil Police in April 2008; Roberto left the police in 2000. As sicarios, they estimate they've killed two dozen people between them. Read excerpts from the interview with them.
In Guatemala, anger over rampant crime and distrust of the police has led to widespread vigilantism. Though the practice is alarming to human-rights monitors, the public is applauding the efforts, saying they are finally cleaning up their towns.
Last year, the working-class Mayan town of San Juan Sacatepequez, Guatemala, was overrun with street gangs. Extortionists reportedly went through the phone book — name by name — demanding money and threatening violence against families that didn't pay. Residents complained of an impotent police force and a justice system that releases criminals back into the population.
Taking Back The Streets
Fourteen months ago, the people of San Juan Sacatepequez took matters into their own hands. Every night, men gather in the plaza to go on patrol with machetes, truncheons and two-way radios. On a recent night, a group of 20 men — bundled against the mountain cold, some in balaclavas — walked the darkened, hilly streets of their sector.
The patrol leader, a local veterinarian nicknamed "The Jackal," says the gangbangers have mostly left San Juan Sacatepequez, and their security patrols have been so effective that other cities now want to copy them.
"Right now, nothing happens anymore because they know we're patrolling at night," says The Jackal. "If the delinquents try to rob anyone during the day, everyone in the marketplace has whistles to sound the alarm. And everyone comes out and captures the thief."
And what happens then?
The patrol leaders say they hand the thief over to the police. But San Juan Sacatepequez's police chief, whose officers have effectively been marginalized by the citizen patrols, says there have been six vigilante killings in the 10 months he has been on the job — and an attempted lynching last month. Townspeople caught two Nicaraguans they said were thieves. They tied the men up, stripped them, beat them bloody, and paraded them around town.
"They were at the point of pouring gasoline on them and setting them on fire. But it was avoided when the police intervened," says Arbol Pavilla, local representative of the Office of the National Human Rights Ombudsman. "They were lucky. I saw the gas can with my own eyes."
Residents Welcome 'More Tranquility'
At midnight, a cafe owner invites the patrol in off the streets to warm themselves with coffee and tamales. The owner, Osmar Mancilla, sits by the griddle and considers how things have turned around in San Juan Sacatepequez.
"I have a brother-in-law who had a bad experience with extortion. It was a type of terrorism; they had him afraid all the time," Mancilla says.
"There was so much insecurity in the streets. When you'd leave your house, you never knew if you'd ever return. Since they started these patrols, thank God, things have changed. There's more tranquility," he says.
Did the street gangs flee San Juan Sacatepequez because of the night patrols' presence, or because of the message sent by the vigilante killings — in which gang members were publicly incinerated?
"It's sad, because I think there's divine justice, and the only one who can take a life is God. But there are extreme circumstances. If the police protected the population, there wouldn't be the need for these measures," Mancilla says.
Government Encouraged 'Social Cleansing'
Back out on the street, a burly patroller in a ski mask, nicknamed "El Chino," says, "These people are human garbage. We don't want them around."
A few years ago, the Guatemalan government — frustrated at its police force's inability to control the gangs — encouraged limpieza social, or social cleansing. It was an overt message for communities to organize and dispose of gang members, whose numbers are today estimated at 80,000. What happened, wrote a newspaper columnist recently, was the creation of a societal "Frankenstein."
"The state cannot be plunged into a situation where there is no rule of law. We have a saying: The medicine can be worse than the illness," says Interior Minister Francisco Jimenez. "Social cleansing doesn't solve problems, because the result is impunity."
Jimenez says Guatemala is opening new academies to beef up its police force, which is currently less than half the size needed for a country of 13 million. Human-rights monitors accuse the police of condoning social cleansing, if not actually participating in it.
Meanwhile, Guatemala's wave of vigilantism is having its desired effect.
"We don't mess with the people in the provinces," says a 26-year-old former member of the notorious Mara Salvatrucha gang. "In San Juan, Xela, San Lucas, they're united. If they catch you, they'll pour on gasoline, light a match, and that's it."