Obama Uses Trip To Push For Guantanamo Help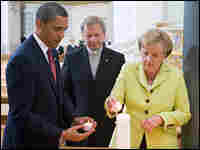 Saul Loeb/AFP/Getty Images
President Obama is using his trip to Germany and the Middle East to push for help in resettling Guantanamo Bay detainees, discussing the issue with German Chancellor Angela Merkel in a private meeting Friday.
Obama said he has not asked Merkel to make "hard commitments" on allowing terrorism suspects from the U.S. military prison to be transferred to Germany, but he confirmed that the countries are carrying on serious discussions.
Although the president has said he wants to close the prison by January, he said he doesn't expect the matter of what to do with the detainees to be settled soon. Germany has resisted U.S. pressure to take as many as a dozen of the roughly 240 inmates being held at Guantanamo.
"Chancellor Merkel has been very open to discussions with us. We have not asked her for hard commitments, and she has not given us any hard commitments beyond having a serious discussion about, 'Are there ways that we can solve this problem?' " Obama said at a joint news conference with Merkel in Dresden, Germany.
Merkel said Germany favors Obama's move to close the facility in Cuba and will be part of the solution. She noted that Germany accepted the return of Muslim student Murat Kurnaz in 2006. Kurnaz, a Turkish citizen born in Germany, was picked up by police while traveling in Pakistan and held in U.S. prisons in Afghanistan and Guantanamo Bay for more than four years.
"When there is a solution in the offing, we will constructively contribute to it," Merkel said, adding that talks are ongoing between the U.S. and Germany. "And at the very end, I am absolutely confident that we will find a common solution."
Obama said Germany and other European Union countries share America's interest in battling extremists while upholding principles of international justice. He said he is talking with the EU about getting help to manage the prison's closure. "But it's going to take some time," the president said. "I think it's going to be a longer process of evaluation."
In the meantime, officials are examining individual cases to see if there are detainees who can be safely transferred from Guantanamo Bay and where they might go.
Obama also sought help with Guantanamo Bay detainees on other fronts this week. He pressed King Abdullah for help with 100 Yemeni detainees when he visited Saudi Arabia on Wednesday, foreign policy adviser Denis McDonough said at a media briefing Wednesday.
McDonough said he did not yet know the outcome of the conversation.
The Obama administration has asked Saudi Arabia and Yemen to send the Yemenis to detention centers in Saudi Arabia.
Meanwhile, Canadian Prime Minister Stephen Harper on Friday turned down a U.S. request to take 17 Uighurs, Guantanamo detainees who the U.S. no longer considers enemy combatants.
Uighurs are from Xinjiang, an isolated region that borders Afghanistan, Pakistan and six Central Asian nations. Chinese officials have branded them terrorist members of an outlawed separatist group and said they must be sent to China, but U.S. officials have balked, fearing the Uighurs would be tortured.
Albania accepted five Uighur detainees in 2006 but has refused to take more.
From NPR staff and wire reports