At Buchenwald, Obama Blasts Holocaust Deniers
President Obama was in Germany Friday where he met with Chancellor Angela Merkel, before visiting the site of Buchenwald, the Nazi concentration camp. Later, Obama met with injured American soldiers evacuated from Iraq and Afghanistan at a U.S. military hospital in western Germany.
ROBERT SIEGEL, host:
From NPR News, this is ALL THINGS CONSIDERED. I'm Robert Siegel.
MELISSA BLOCK, host:
And I'm Melissa Block.
One day after President Obama addressed the Muslim world from Cairo, he toured Buchenwald concentration camp in Germany. An estimated 56,000 people, many of them Jews, died there, killed by the Nazis. Mr. Obama toured the camp with the German chancellor, Angela Merkel. Also joining them, Elie Wiesel, the Nobel Prize winner who survived Buchenwald as a teenager.
NPR's Don Gonyea reports on a somber day with the president.
DON GONYEA: Buchenwald stands as a monument to the memory of what happened here. The president, Chancellor Merkel and Elie Wiesel walked through the massive, wrought-iron gate that is the entryway to the camp. Past the rubble and foundations of barracks, they laid yellow roses on a memorial to the survivors. They saw the crematorium. They stopped and looked at a photo where a building once stood. It is a picture of young men - prisoners, emaciated, staring from their bunks. One of them is a 16-year-old Elie Wiesel. Afterward, President Obama spoke to reporters.
President BARACK OBAMA: Now, these sites have not lost their horror with the passage of time. As we were walking up, Elie said if these trees could talk. And there's a certain irony about the beauty of the landscape and the horror that took place here. More than half a century later, our grief and our outrage over what happened have not diminished. I will not forget what I have seen here today.
GONYEA: The president spoke of how his own great uncle, his grandmother's brother, was a member of the U.S. 89th Infantry, which liberated Buchenwald and nearby smaller camps. He said his uncle was so shocked by what he saw that day, that he had serious problems just trying to adjust after the war. And the president spoke of how U.S. Commander General Eisenhower ordered photographs and films of the camps taken to create a record so that no one would ever be able to forget or deny what had happened.
Pres. OBAMA: To this day, there are those who insist that the Holocaust never happened, a denial of fact and truth that is baseless and ignorant and hateful. This place is the ultimate rebuke to such thoughts.
GONYEA: That echoed a line from his speech to the Muslim world delivered in Cairo yesterday. The president concluded by turning to Elie Wiesel. Behind him as he spoke, the camp gate and clock tower, the hands of which are permanently set at 3:15 - the exact time that the camp was liberated on that day in April of 1945. Wiesel survived Buchenwald - his father did not. He spoke about that.
Mr. ELIE WIESEL (Writer, Nobel Laureate): The day he died was one of the darkest in my life. He became sick, weak, and I was there. I was there when he suffered. I was there when he asked for help, for water. I was there to receive his last words, but I was not there when he called for me, although we were on the same block - he on the upper bed, and I on the lower bed. He called my name, and I was too afraid to move. All of us were. And then he died. I was there, but I was not there.
GONYEA: Wiesel asked what he could tell his father about the world today and the lessons learned. He said he's not so sure. He said he has hopes for the new American president.
Mr. WIESEL: Thank you, Mr. President, for allowing me to come back to my father's grave, which is still in my heart.
GONYEA: Don Gonyea, NPR News, Buchenwald.
NPR transcripts are created on a rush deadline by Verb8tm, Inc., an NPR contractor, and produced using a proprietary transcription process developed with NPR. This text may not be in its final form and may be updated or revised in the future. Accuracy and availability may vary. The authoritative record of NPR's programming is the audio record.
Obama Uses Trip To Push For Guantanamo Help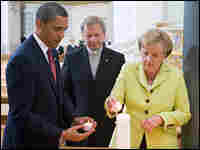 Saul Loeb/AFP/Getty Images
President Obama is using his trip to Germany and the Middle East to push for help in resettling Guantanamo Bay detainees, discussing the issue with German Chancellor Angela Merkel in a private meeting Friday.
Obama said he has not asked Merkel to make "hard commitments" on allowing terrorism suspects from the U.S. military prison to be transferred to Germany, but he confirmed that the countries are carrying on serious discussions.
Although the president has said he wants to close the prison by January, he said he doesn't expect the matter of what to do with the detainees to be settled soon. Germany has resisted U.S. pressure to take as many as a dozen of the roughly 240 inmates being held at Guantanamo.
"Chancellor Merkel has been very open to discussions with us. We have not asked her for hard commitments, and she has not given us any hard commitments beyond having a serious discussion about, 'Are there ways that we can solve this problem?' " Obama said at a joint news conference with Merkel in Dresden, Germany.
Merkel said Germany favors Obama's move to close the facility in Cuba and will be part of the solution. She noted that Germany accepted the return of Muslim student Murat Kurnaz in 2006. Kurnaz, a Turkish citizen born in Germany, was picked up by police while traveling in Pakistan and held in U.S. prisons in Afghanistan and Guantanamo Bay for more than four years.
"When there is a solution in the offing, we will constructively contribute to it," Merkel said, adding that talks are ongoing between the U.S. and Germany. "And at the very end, I am absolutely confident that we will find a common solution."
Obama said Germany and other European Union countries share America's interest in battling extremists while upholding principles of international justice. He said he is talking with the EU about getting help to manage the prison's closure. "But it's going to take some time," the president said. "I think it's going to be a longer process of evaluation."
In the meantime, officials are examining individual cases to see if there are detainees who can be safely transferred from Guantanamo Bay and where they might go.
Obama also sought help with Guantanamo Bay detainees on other fronts this week. He pressed King Abdullah for help with 100 Yemeni detainees when he visited Saudi Arabia on Wednesday, foreign policy adviser Denis McDonough said at a media briefing Wednesday.
McDonough said he did not yet know the outcome of the conversation.
The Obama administration has asked Saudi Arabia and Yemen to send the Yemenis to detention centers in Saudi Arabia.
Meanwhile, Canadian Prime Minister Stephen Harper on Friday turned down a U.S. request to take 17 Uighurs, Guantanamo detainees who the U.S. no longer considers enemy combatants.
Uighurs are from Xinjiang, an isolated region that borders Afghanistan, Pakistan and six Central Asian nations. Chinese officials have branded them terrorist members of an outlawed separatist group and said they must be sent to China, but U.S. officials have balked, fearing the Uighurs would be tortured.
Albania accepted five Uighur detainees in 2006 but has refused to take more.
From NPR staff and wire reports