Hawaii Family Lives Off the Grid
Hawaii Family Lives Off the Grid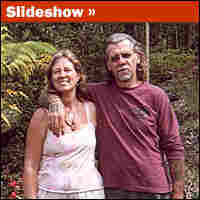 So, you've switched to compact fluorescent lightbulbs and always separate your paper and plastics. But when it comes to being environmentally aware, you probably can't compete with Maire Sanford.
Sanford lives on a patch of land in Hawaii with her husband, David, and their 15-year-old son. They arrived there in 2004 after leaving Seattle in search of a quieter pace of life.
At first, the family lived on Kauai, but found after a couple of years that they could no longer afford housing there. They found a piece of land on Hawaii's Big Island, and pitched tents.
"[The land] embraced us, and it just felt like it was supposed to be home," Sanford says.
"Home" is now two tents: one serves as the kitchen, where the stove runs on a propane tank and the refrigerator is a cooler filled with ice. Rainfall supplies most of the family's drinking water, and the sun provides some power.
In truth, David and Maire did not plan to be living in tents three years into this adventure. They bought the land hoping to build a more permanent structure.
But saving money has proved difficult, with Hawaii's low salaries. Maire works two part-time jobs, while David works full-time as a cook at a hotel, making $10 an hour. They do not have health insurance.
Still, to say that the setting of their home is beautiful does not capture it. And the daily work of running their home off the grid has led them to value the basics.
"I think sometimes we appreciate [resources] a little bit more, because we either catch water, or we go get it," David says.