Obama's 'Renegade' Campaign For The Presidency
Author Richard Wolffe's book, Renegade, offers an inside look at President Barack Obama's campaign for the White House.
Also, NPR's political editor Ken Rudin talks about state senator Creigh Deeds' win in the Democratic primary in the Virginia governor's race, and a Republican fundraiser in Washington, DC that made $14 million.
Excerpt: 'Renegade'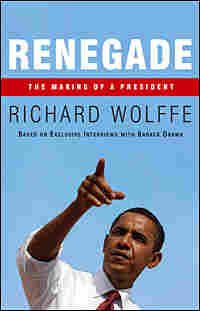 Election day starts, in the small hours, where the candidate has spent most of his last 626 days: on a plane. Stuck to the gray plastic walls of the pressurized cabin are snapshots of his odyssey across cities and fields, mountains and deserts, continents and oceans. A snowstorm in Iowa, a press conference in Downing Street. Camera crews dozing onboard, Secret Service agents sharing a joke. The candidate signing books, reporters holding audio recorders close to his face. Now, between the empty candy wrappers and the drained beer bottles, he walks back one last time from his spacious first-class section, through his staffers' businessclass seats, to the coach class of the press. "You know, whatever happens, it's extraordinary you guys have shared this process with us, and I just want to say thank you and I appreciate you," he says, shaking everyone's hand. One reporter asks how he's feeling, but he insists that he won't answer questions. Even obvious ones. He thanks the young TV producers who have trailed his every move from the start, admires the photos on the overhead bins, then pokes fun at a magazine reporter who was parodied on Saturday Night Live. He gives a birthday kiss to a young photographer, shakes hands with every member of the aircrew, and finishes with a simple farewell: "OK, guys, let's go home."
The last twenty-four hours felt like the longest day of the long campaign. It began with the news that the last living person to raise Barack Obama through childhood, his grandmother Toot, had lost her struggle against cancer. At his penultimate stop in Charlotte, North Carolina, it rains so hard, and for so long, that it's hard to see the streaks running down both his cheeks. They don't come obviously or immediately. Hardened by two years of campaigning and many more years of self-control, his voice never breaks as he announces the news. "Some of you heard that my grandmother who helped raise me passed away early this morning," he says calmly. "Look, she has gone home. And she died peacefully in her sleep, with my sister at her side. So there's great joy as well as tears. I'm not going to talk about it too long, because it's hard a little to talk about." His face remains composed as he talks about the "bittersweet" sensation of losing his grandmother while his campaign draws to a close. He betrays little emotion as he describes her as "a quiet hero" and sketches out her life story. But when he starts to read his stump speech from his teleprompter, when he talks about the broken politics in Washington, he surreptitiously strokes one cheek with his thumb. He condemns eight years of failed Bush policies, and casually strokes the other cheek. Two minutes later, as the crowd chants "Yes We Can," he finally takes a handkerchief out of his pocket and wipes his face down. It is one of the rarest moments of the entire election: a display of raw emotion from a candidate whose mask almost never slips before the dozens of cameras that trail him every day. Even then, at his most vulnerable point, he defers the moment and dissipates its impact.
The cracks in his self-control spread to those closest to him. Standing at the back of a leaking tent in a parched yellow field is the candidate's friend and strategist David Axelrod. "He's at peace with what happened. It wasn't unexpected. He just wishes he had some time to deal with it in his own way," Axelrod says. "But I'm finding this hard right now. The enormity of it all is almost overwhelming. I love him; he's my friend. This election is ridiculously long and there are many stupid things about it. But you really have to earn the presidency. And he's been tested. You can't hide it or fake it."
Yet the candidate has partly passed the test by hiding himself away. By the time he reaches the final campaign rally in Manassas, Virginia, he has regained full control. Close to the site of two Confederate victories in the Civil War, the nation's first major African American nominee — a Democrat, no less — speaks to some 100,000 people at Prince William Fairgrounds. As a community organizer two decades earlier, Obama often feared that no one would show up to his meetings. Now there are so many people the traffic is snarled for hours and miles around. These crowds, he says, have enriched him, moved him, and lifted him up when he was down. Now he's so inspired he tells his signature story from Greenwood, South Carolina. The tale of a little woman who lifted his spirits, on a dismal day early in the campaign, with a simple chant: "Fired Up! Ready to Go!"
"It shows you what one voice can do," he concludes. "One voice can change a room. And if a voice can change a room, it can change a city! And if it can change a city, it can change a state! And if it can change a state, it can change a nation! And if it can change a nation, it can change the world!"
Yet at the start of this historic election day, in the early hours of the morning, the candidate seems weighed down. Determined and spirited perhaps, but also crushed with exhaustion and emotion. The gray wisps on his head are now visible from a distance, like the lines scored close to his eyes and across his cheeks. He sounds fired up, but looks ready to drop.
It is one in the morning when he lands at Chicago's Midway airport. The polls have already closed in the small New Hampshire town of Dixville Notch, which has not voted for a Democratic president since 1968, but favors Obama by fifteen votes to six. The candidate walks down the stairs from his plane and steps into his armored SUV to a flash of cameras. Behind him is a new addition to his motorcade: another SUV filled with a black-clad, heavily armed Counter Assault Team.
Reproduced with permission from Crown Publishers.