StoryCorps: A Fateful Introduction to Gang Life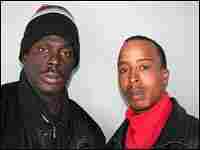 Questions and Comments
In this week's installment from the StoryCorps Griot Initiative, former gang member Omar Leech remembers his first exposure to gang life as a young man in Toledo, Ohio.
Leech passed away earlier this month in a car accident in Atlanta. He recorded this interview there just three weeks earlier.
The StoryCorps Griot Initiative travels the country collecting the recollections of black Americans. On Tuesdays, News & Notes features one of these stories. To find out where the StoryGriot Initiative will be next, visit the StoryCorps website. To find out where the StoryCorps recording booth will be next, visit News & Notes new blog, News & Views.