Need A Flag From Bhutan? The Flag Man Has It
Need A Flag From Bhutan? The Flag Man Has It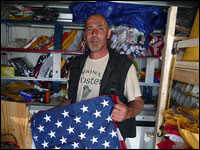 Sunday is Flag Day. Some will honor the day by raising the stars and stripes, but for one man in Connecticut, every day is Flag Day.
In New Haven, Bill Shields' truck sits next to a park that's really just a strip of grass squeezed between Interstate-95 and New Haven Harbor. On most days, the wind whips off the water and catches a collection of flags attached to the roof of his truck.
"I'm the Flag Man. The Flag Man of Long Wharf," he says.
For 18 years, Shields has parked his truck here on Long Wharf Drive and sold flags from every imaginable nation out of the back. These days, the 50-year-old with trim hair and camouflage cargo pants is using a converted U-Haul with the words "Flag Man" printed on the side. Inside the truck's cabin, wooden racks hold about 800 different styles of flags, many in three or four different sizes. You can test him, there's no country he doesn't have.
Lithuania?
Got it.
Bhutan?
"Yeah, it's got the dragon on it skating on eyeballs," he says. "Yeah, that's the one. That's a weird one, but yeah, I have that one, too."
He says that one came in handy the day a monk stopped by the truck, looking for his home flag.
"I had it, so there you go, made a sale," he laughs.
The Flag Man's customers come from all over the world, and he says many are homesick and looking for a reminder of their countries.
"I mean I have some fun ones," he says. "But 99 percent of my stock here someone bled for it. It means something to somebody."
Shields says he has always been fascinated by flags.
"You know, and you look at them, the colors mean something, the symbology in the middle has a meaning to it. You know, every little thing that you wouldn't think anything about. But that little detail in the flag could mean a lot," he says.
Bobby Feriola pulls up behind the Flag Man's truck on his Harley Davidson Road King. Shields already knows what Feriola is looking for.
Shields tosses Feriola a folded and wrapped flag and Feriola opens it and holds it up. In the middle of the flag, printed over the stars and stripes, is the image of a motorcycle. He's going to hang it at his house across the harbor.
"I gotta get at least two a year because the wind over on the other side tears these up," he explains.
Feriola says he's been wondering what happened to the Flag Man, who's been missing for the last few weeks. Shields' old converted food-service truck died in late May and it took awhile to replace. But Feriola says he knew Shields would be back.
"We're like the flag. We'll be here for another 100 years," says Feriola.
Shields' old truck died right before Memorial Day, which couldn't have been worse timing. The Flag Man usually makes 30 percent of his annual sales that week. He's trying not to think about it. He says it's too bad, though, that Flag Day is not a gift-giving holiday.
Craig LeMoult reports for members station WSHU in Fairfield, Conn.