Family Surprised At Czech Meaning Of 'Say Cheese'
Family Surprised At Czech Meaning Of 'Say Cheese'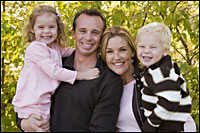 Web Resources
Courtesy Jeff and Danielle Smith
When Danielle Smith posed with her husband and their two children for a photograph that she then used on her Christmas card, little did she suspect that a giant version would end up in the window of a Czech grocery store.
The mother of two from suburban St. Louis got an e-mail from a college friend who was living in the Czech capital, Prague. He said he had just spotted a huge version of the photograph in the window of a grocery store. Smith says she was skeptical, so her friend took a picture and e-mailed it as proof.
Her response: "Not only is that my family, that is my family life-size."
Smith tells NPR's Michele Norris that she and her husband went to the grocery store's Web site and that the store appeared to be high-end: "You order; they deliver."
Smith says she had posted the photo on her Web site and a few social networking sites. It was high resolution, enabling someone to grab it.
There has been little in terms of an apology from the store. "I think at this point, our apology is that they are willing to take the photo down," she says.
Smith acknowledges that you run the risk of something like this happening when you put your photos online. She says next time she posts a photo, she'll either lower the resolution or watermark the image.
She says, however, that she should have a reasonable expectation of being able to create a Web site that someone doesn't jump on.
"Pepsi has a Web site. ... Hertz cars has a Web site. And they have an expectation that someone doesn't right-click on one of their pictures and take it and use it somewhere else," Smith says. "So I would imagine that as a business owner, as a mom, as an individual, I should expect that same right."