Yampa River Runs With Possibility And Protest
Yampa River Runs With Possibility And Protest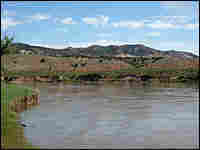 In Depth
A three-way battle may rise to a boiling point in Colorado.
The Yampa River runs in the northwestern section of the state through Dinosaur National Monument, and its mighty water is coveted by a powerful energy company, western cities and recreation advocates.
The Yampa is an anomaly in Colorado. Unlike most western rivers, which have been dammed, diverted or otherwise appropriated, the Yampa runs wild.
First, the powerful energy company: Deep below the Yampa lurks oil.
"It's three times what the Saudi Arabians currently have in proved reserves, and it presents a significant opportunity to energy security in the U.S.," says Tracy Boyd, a spokesman for Shell Oil.
The company has filed for the rights to divert a substantial amount of water from the Yampa just a few miles upstream from the dinosaur monument. It would be stored in a massive reservoir for future oil shale mining, a controversial and still unproven technology. Shell says it wants to inject the water into the ground to unlock oil from shale.
"This is a long-term commitment to prudently and slowly and properly address all the technical questions and environmental and social questions about oil shale development, so it can be done the right way, at the right time," Boyd says.
But right now, a lot of people have questions about how much water this will take, and whether there will be any left for everyone else. Northern Water is the agency that secures water supplies for the booming Colorado Front Range north of Denver. Northern has also proposed to take water from the Yampa near Shell's site. But it wants to pipe it 225 miles up and over the Continental Divide to the eastern side of the Rockies, where most Coloradans live, despite the lack of water.
"We think we need the water over here is just purely due to population growth. Unless they put armed guards at I-25 and I-70, people are going to continue to find this a desirable place," says Carl Brouwer, a project manager with Northern.
Brouwer says a new water supply might also stop the drying-up of farms on the state's productive eastern plains — where landowners have been selling their lucrative water rights to eager developers. So agriculture, extractive energy companies and people who depend on this water are all battling for a piece of the Yampa.
And then there are the outdoor enthusiasts like Pat Tierney, who runs Adrift Adventures out of nearby Vernal, Utah. He says the Yampa's canyons are right up there with the Grand Canyon "in terms of outstanding beauty."
The Sierra Club launched its first nationwide environmentalist campaign in the 1950s. It successfully stopped a huge reservoir that would have dammed up the canyons in the monument. Today, Tierney is mobilizing for a similar fight.
"We want to protect this rare jewel, and the flows in it. Leave this one; let our grandchildren see what a wild river's like," Tierney says.
All the proposals for more water out of the Yampa will have to work their way through Colorado's complicated water court system. Meanwhile, everything is on hold while the state finishes up a long-awaited study on water supplies and growing demand in Colorado. That may conclude that there is not enough water in the Yampa to share with anyone.
Kirk Siegler is a reporter for member station KUNC in Colorado.