After Tiller: What Will Happen To The Women?
Last week the family of murdered Dr. George Tiller announced that Tiller's controversial late-abortion clinic will be closed permanently. This is one in a series of three commentaries looking at the debate over abortion after Tiller. Hear from the president of NARAL Pro Choice America, from an anti-abortion doctor who works next door to Tiller's closed clinic, and from a Catholic writer who envisions compromise on this contentious issue.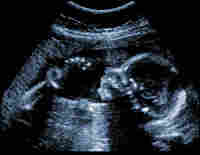 What will happen to the women?
This central question haunted me Tuesday when I heard that Women's Health Care Services Inc., where Dr. George Tiller provided care to women for more than 30 years, would close permanently.
I can't imagine the pain Tiller's wife and children are experiencing. It is a sad day for our country when the very family members who stood by their husband and father as he endured countless attacks are forced — as a result of his murder — to make a decision to close the medical center that he fought so hard to protect.
I thought about Karen from Pennsylvania, who shared this comment on our blog: "Dr. Tiller, you saved my niece Jeanette's life, you helped our family through one of the darkest, most desperate and unthinkable moments we ever experienced. When we thought there was no where to turn, there you were."
Now only two providers in the country are able to help families like Karen's through similar tragic situations. These women often find out late in their pregnancy that something's gone wrong — and they have to make the most profoundly personal and difficult decision of their lives.
It is for these women that pro-abortion-rights Americans organized more than 50 vigils in Tiller's honor in 24 states. These Americans know that Tiller's murder is not an isolated incident. It is part of a pattern of harassment and intimidation designed to make it impossible for women to access the safe, legal abortion care they need.
These women's stories must not be forgotten as abortion opponents stand before television cameras to denounce Tiller's murder, while they continue to use inflammatory rhetoric that demonizes abortion providers in their anti-abortion propaganda.
Even before Tiller's murder, notorious anti-abortion blogger Jill Stanek told Newsweek that, after pro-abortion-rights gains in the 2008 elections, it was time for "guerrilla warfare" against abortion providers. Stanek last week posted the names and locations of two doctors who offer care to the women Tiller and his staff used to help.
The disdain and disrespect for women's health and privacy doesn't end there.
Troy Newman, the head of Operation Rescue, an organization that moved its headquarters to Wichita specifically to target Tiller's health center, told The Associated Press that his group "would love to make an offer for the property and that his group had discussed the idea."
Newman once again demonstrates how callous he is. The question isn't, "What will happen to the building?" It is, "What will happen to the women?"