After Tiller: Ending Abortion Is Still The Mission
Last week the family of murdered Dr. George Tiller announced that Tiller's controversial late-abortion clinic will be closed permanently. This is one in a series of three commentaries looking at the debate over abortion after Tiller. Hear from the president of NARAL Pro Choice America, from an anti-abortion doctor who works next door to Tiller's closed clinic, and from a Catholic writer who envisions compromise on this contentious issue.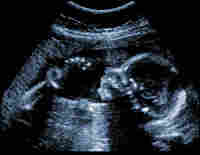 What has changed in Wichita with the murder of George Tiller?
On the issue of abortion, I'm on the other side of the fence from George Tiller. Literally. A 6-foot weathered cedar fence is the only thing that stands between the closed Tiller clinic and ours, Choices Medical Clinic.
That fence symbolizes the philosophical divide that has existed for decades between two views on life before birth. We located our clinic next to Tiller's to offer an alternative to women considering abortion.
Tiller's sudden and tragic death has made me reconsider what I'll do for the next 10 years. Do I and Choices Medical Clinic still need to exist in this location? Is the conflict over?
Tiller's clinic is closed and empty, but the Choices waiting room will very likely remain packed with women facing seemingly insurmountable odds: women involved with toxic men who impregnate and then abandon them; women facing the horrible circumstance of a formerly wanted child now deformed or unlikely to survive birth; women who want to be as free as men when it comes to pregnancy.
While it may seem that the political, physical and philosophical epicenter of the debate over abortion has shifted away from Witchita, in reality, it has simply moved underground in Kansas. Late abortions will continue.
Finding late-abortion providers in Kansas resembles finding moonshine during Prohibition — except that performing these abortions remains legal, albeit obviously a dangerous, yet financially lucrative profession.
During the 1920s people had to know someone with the right connections to obtain what they wanted. Now, at least in Wichita, women seeking a late abortion must find a doctor to be the medical middleman who will grant them access to legal abortion.
Health care providers need to help women who face an unplanned or challenging pregnancy. The question remains, how?
For Tiller the how was with curette and suction. For others, like me, it's listening to these women talk about their worries and burdens, and providing medically sound and realistic alternatives to abortion. In this way I try to stand with and support my patients in difficult times.
With the sod settling on Tiller's grave and his clinic permanently closed, what does abortion in America now look like?
Unfortunately, the health care community of America looks much the same. Physicians who abhor abortion will still refer their patients to other physicians who perform late abortions. Again, late abortion will continue.
I fear most Americans will soon turn back to their other concerns — effectively abandoning or ignoring women and families in crisis, and their unborn children.
In the first Star Wars movie, when Luke Skywalker flew his X-wing fighter to destroy the Death Star, he was up against seemingly overwhelming odds. His commander urged him to "Stay on target!"
How do those who still care about stopping abortion stay on target? Should the murder of George Tiller change our focus?
Not at all. Although Tiller became the target of an assassin, he was never the target of those who really care about protecting life.
Our mission at Choices Medical Clinic remains unchanged. We will continue to provide services to help the unborn, their mothers and families. We will continue to work to prevent abortions.