Musical Therapy For A Long, Hot Summer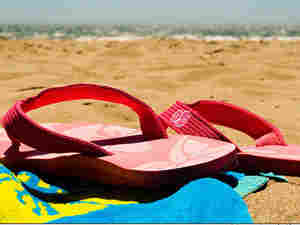 Is there a proper musical equivalent to a Danielle Steel novel — something meant to dance about your ears without fully weighing down your brain? Such would seem the proper recipe for summer music, when the sensual exigencies of the moment — sun, surf and sand —- supersede one's need for deep thinking or brooding emotions. Discontented winters are the time for Dostoevski novels and Beethoven string quartets.
Summer is about forgetfulness, a dip in the memory-cleansing waters of the mythic River Lethe. That and a few drams of a tropical umbrella drink and the right music, and you're blissfully cemented in the here and now. The mellowest of drinking songs was composed by Billy Barnes and sung with delicate restraint by June Christy. "Something Cool" is summertime in a tumbler. All you need to supply are the tinkling ice cubes.
If jazz is indeed the quintessence of cool, Concord Music's recent re-release of a classic pair of albums might obviate the need to turn on the air conditioner this summer. Pianist Bill Evans and singer Tony Bennett went in the studio in the mid-1970s to cut two albums' worth of standards; they helped earn "the greatest saloon singer in the world" a whole new kind of respect. Supported by Evans' Chopin-esque touch and rarefied harmonic palette, Bennett sings "Young and Foolish" as if he remembers such blissful days all too well.
At the risk of bringing down the party vibe with something too wan and sentimental, might I suggest a little Jonathan Richman to lighten the mood? Richman, whose adenoidal whine is present in his voice even today as he flirts with six decades on the planet, is a bighearted soul despite his penchant for irony and clever wordplay. "That Summer Feeling" is one of his signature songs, and it's a perfect wedding of nostalgia and hard-bitten wisdom. Warning: The lazy guitar strumming and lyrical sweetness may induce memories of beachside bonfires and ice-cold beer. As Richman sings, "That summer feeling is gonna haunt you one day in your life." May you go there gently.