The Entrepreneurial Spirit Burns Bright In Detroit
Today's 18-to-25-year-olds grew up in a period of relative prosperity. They're now trying to start their lives in one of the most challenging economic times in recent memory. This series — a collaboration with PBS' NewsHour — will feature stories reported by veteran broadcast journalist Judy Woodruff.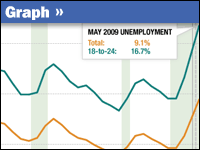 More From The Series
John Hughes and his business partner want to make money by encouraging Detroit residents to spend it — in Detroit.
It's hard to imagine how to help the failing city in the state with the highest unemployment rate. But this 25-year-old is determined. And helping his city is one of the things that Hughes says drives him to work with little time off and no time for dates — all while still living at home with his parents.
"And that's what allows me to get excited about the idea, whereas if I were just opening ... a real estate company or something like that, I don't know if I'd be as excited about it," Hughes tells NPR guest correspondent Judy Woodruff. "Because ... I can make money, but is that all I'm going to do at the end of the day?"
The plan only exists on paper, but he's already pitching it to local businesses, and some like it. The idea is to create a customer loyalty card for local stores and restaurants. If you spend $100 at a locally owned cafe, you might earn enough points for a free meal or a discount at the mom and pop bookstore down the street. The point is to get people to spend money locally. Hughes would charge each business a percentage or a flat fee to participate in the program.
One cafe owner says he's happy Hughes is working on this. "It's what we need in this neighborhood, especially in this economy."
Hughes says he'll need as much as $200,000 to launch his business. The working name of it is LoFi, as in local fidelity. In the meantime, Hughes wants to get financial support from Bizdom U, a nonprofit organization that teaches people how to start businesses, then gives them money to launch them. The business has to be based in Detroit. Bizdom's goal is to create jobs and encourage the spirit of enterprise in the city that could use a lot of both.
Over the past three years, Hughes has taken classes at Bizdom and consulted with their advisers. Right now, he's gearing up to go before a Bizdom panel to see if he can get funding.
It's important to Hughes to apply to Bizdom for help. "A big motivator for me is fearing I'll regret something later. I knew if I looked back 10 years from now and didn't take the chance, I'd regret it," he says. For "an entrepreneur, that's what you look for — you look for something where you're going to make your mark in it."
Hughes knows that most new businesses fail — good economy or bad. But he won't dwell on that. He says he learned to be an optimist from his parents, a trait that came in handy a few years ago as Detroit fell into recession. His father took an early buyout from GM; his mother's real estate business took a dive.
It seems his parents had it easier when they were his age. "We're not in the generation where we can get out of college and just get a job like my parents," he says. "Now you could get out and make the same amount as if you hadn't gone to college at all, so I think it's just made us more creative and hard-working."
There's no choice, Hughes says. "If you want to make something of yourself in this day and age, you have to hustle."
And if he fails, he fails.
"If by some crazy chance I go down with the ship, then I go down with the ship and I'll start over," he says. "I'm still young."
Hughes jokes that Detroit needs more people like him: smart and stubborn enough to try to revive a dying city in a sick economy. But think of it this way, he says. "If a new business can succeed right here, right now? It's golden."