In Memory Of An Indian Musical Genius
Keystone Features/Hulton Archive/Getty Images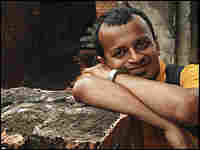 It's the only poster of a musical star I have in my house anymore. Ali Akbar Khan, a bald old man with a moon face and a gentle smile, presides over the chopping board in my kitchen. I got that poster almost a decade ago. It was the first time I ever met him.
But I had been listening to him all my life. On warm summer afternoons in India, on vinyl LPs we had to be careful not to scratch.
My mother told me stories about the musical giants Ravi Shankar and Ali Akbar Khan playing to packed houses in Calcutta until dawn. She wanted me to learn the sarod, a musical instrument with 25 strings. Alas, I was completely without musical talent. But I listened to the deep resonant sounds of Ali Akbar Khan's sarod coming out of my parents' record player.
The obituaries mention the Grammy nominations, the first Indian musician to become a MacArthur genius, the first Indian musician to record an LP of Indian classical music in the US.
But when I inerviewed him at his home in the Bay Area, he wanted to talk to me in Bengali about how he used to ride a motorcycle all over India, sometimes showing off by picking up a handkerchief with his teeth. He talked about missing the foods of his childhood - ilish fish and rasamalai. When he started teaching in America in 1965, the Bay area wasn't studded with Indian grocery stores the way it is now. Ali Akbar Khan said it wasn't easy being an early musical ambassador. He felt he was always trying to translate his culture.
When my generation came here, we found our music already waiting for us. Ali Akbar Khan gave us a sense of home.
His name immediately revealed his Muslim parentage. But Khan-Sahib taught music in a room where the window bore a stained glass image of Saraswati, the Hindu goddess of the arts and learning. I used to wonder if he considered himself Muslim or Hindu. But before I could ask him, he told me he was a musician—that to him, music was next to God.
He is my kitchen god now. And above the sizzle of frying onions, I can hear the pluck of the sarod and his no-nonsense rebuke to his students.
"You are singing like a typewriter," said the master, his accent still indelibly Bengali after decades in America. "Sing like handwriting."