Savor the Season with a Picnic of Good Books
Savor the Season with a Picnic of Good Books
Which metaphor can best describe what we'll do this summer with the books piling up on our desks, or growing into small mountains on the floor?
As a writer, I should (I hope) be able to find the right image for that enterprise. Is it a journey we'll take into fictional worlds? An adventure into the lives of other minds? A meditation on various representations of reality? All of these at once?
Before we had books, we in the West lived in a world of oral poetry. At seasonal intervals in the year, audiences listened to the chanting of poets who spoke epic lines about all the things they believed to be true: gods and monsters and the human beings in between. Similes illustrated the hidden connections between, for example, the Iliad's Greek soldiers and the sea: They cheered "like waves/ on some high headland when south winds hurl them/ against a crag that the billows batter/ ceaselessly from one side or another."
Soldiers cheering, like waves hurled against rocks? The poets chanted it, and a new way of thinking was born. Now, thousands of years later, we still employ language in that same poetic fashion, linking seemingly dissimilar things.
So, back to the question. How to describe a selection of the season's best books, along with some literary classics? My list is not as broad in its offerings as a smorgasbord, but it might be a summer picnic with a number of good things to taste and savor... or perhaps a mix of old wine and new?
A Feast, to Start
Tales of Chekhov, by Anton Chekhov, translated by Constance Garnett, paperback, boxed set
You might consider this first recommendation a moveable feast: all 200 of Anton Chekhov's stories in a 13-volume boxed set (read and hear a passage from Chekov's "The Lady with the Dog"). Chekhov's stories contain just about every nuance and turn of the modern human heart and soul, offering countless hours of splendid short fiction by the father of the modern story.
Richard Ford, one of our own masters of the short story, wrote the introduction (read an excerpt). Read these Chekhov stories, Ford tells us, "for pleasure, first, and do not read them fast. The more you linger, the more you reread, the more you'll experience and feel addressed by this great genius...."
Revisiting John Gardner
The Sunlight Dialogues by John Gardner, paperback, 736 pages
One of my favorite reprints of the year from an American writer is the late John Gardner's signature 1972 novel, the upstate New York epic The Sunlight Dialogues (hear Gardner's son read from his father's novel). The first time I read it, it bowled me over: what a dramatic encounter between modern life and ancient mythology, as Gardner tries to bring to light some of the hidden mysteries of everyday existence. Since his death in 1982 at age 49, Gardner has mainly been represented by his books about the art of writing. It's about time that people turn back and take a look at the accomplished art of his own fiction.
A Beach-Shack Love Story
The Maytrees: A Novel by Annie Dillard, hardcover, 224 pages
From the summer crop of new fiction, I suggest picking up Annie Dillard's first novel in many, many years (it's actually only the second novel she's ever published). Dillard, who won a Pulitzer Prize in 1975 for Pilgrim at Tinker Creek, has been known to American readers for decades as the author of moving and powerful nonfiction. In The Maytrees, Dillard has written an elegant and, as we might expect from this brilliant and unusual stylist, quirky philosophy-minded beach-shack love story set on Cape Cod beginning in the 1940s. Between the dunes and the star-splashed sky above, The Maytrees swells with beautiful images, of the land, the sea and the constellations (Dillard reads a passage for us, from her cabin in southwest Virginia's Blue Ridge Mountains).
Love and Death in South Africa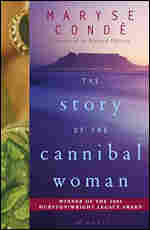 The Story of the Cannibal Woman by Maryse Conde, translated by Richard Philcox
More of love and death lies in a story deeply accentuated by the sharp feelings and sharp mind of the main character, and by the setting. Maryse Conde's elegant and musically told novel, The Story of the Cannibal Woman, follows Roselie Thibaudin, a Caribbean woman, painter and medium. Thibaudin is widowed in Cape Town after the murder of her husband, and left to figure out her life in a troubled city. Conde's husband, translator Richard Philcox, turned this novel, originally written in French, into one of the liveliest and loveliest translations of the year (hear Philcox read from his wife's novel).
Changing Idaho Skies
Five Skies by Ron Carlson, hardcover, 256 pages
Short story writer Ron Carlson's first novel in many years, Five Skies, finds men at work — and men working out their deepest hopes and sorrows, beneath the constantly changing and always astonishing Idaho skies (hear Ron Carlson read from Five Skies). It's a fine book about fathers and sons, troubled brothers, lost wives — a deep portrait of three construction workers in the wilds of Idaho during a pivotal summer for them all.
One More for the Road
Selected Shorts: Travel Tales, three CDs
And we can add some delicious nonfiction to our picnic spread, from the Selected Shorts CD series. Travel Tales includes stories by Nadine Gordimer, Max Steele, and an essay titled "Goodbye to All That" by Joan Didion (read by actress Mia Dillon), in which Didion tells us about her arrival in New York after putting California behind her for the first time.
Hello Again, and Adieu...
Farewell Summer: A Novel, by Ray Bradbury, hardcover, 224 pages
It couldn't be summer for me without recollections of reading Ray Bradbury when I was a kid. But I've never said goodbye to his work. The sequel to his much-beloved novel Dandelion Wine came out this past autumn: Hear Bradbury read an excerpt. Of this special time of year Bradbury writes: "There are those days which seem a taking in of breath, which, held, suspends the whole earth in its waiting. Some summers refuse to end."
Think of the reading we could do in a summer like that, a summer that refused to end. And what a metaphor!
But Wait, There's More...
For Web readers, here are two extra titles worthy of a read (or a listen).
Best American Fantasy by Jeff VanderMeer and Ann VanderMeer, paperback, 396 pages
I've always been a hard-core science-fiction reader, eschewing fantasy. But some fine writers have recently turned up working in fantasy and have softened my objections to the genre, among them Kevin Brockmeier, Tony D'Souza, Robin Hemley, Brian Evenson and Kelly Link. You'll find them in this collection, the first in a new series (read a passage from Kelly Link's story set in the land of Oz).
The Pushcart Book of Poetry edited by Joan Murray, hardcover, 275 pages
Fiction, fiction, more fiction — I can never recommend enough of it! But there's poetry, too, at my summer picnic. In The Pushcart Book of Poetry, editor Joan Murray culls from 30 years' worth of the annual Pushcart Prize volumes lovely work by some of the most remarkable poets writing today — Adrienne Rich, Seamus Heaney, C.K. Williams, Sharon Olds, the late Stanley Kunitz, William Stafford, Aga Shahid Ali, Li-Young Lee, Lucille Clifton and Philip Levine, among many others. Jane Hirschfield's poem "Red Berries" serves up one striking metaphor after another (you can hear her read it here).
Books Featured In This Story