Rainwater, IPhone App Help Thirsty California Farms
Rainwater, IPhone App Help Thirsty California Farms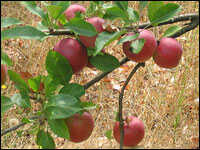 In Depth
Zach Sheely, 27, is excited about the family farming business now that a California-based irrigation software company, PureSense, lets him and other farmers check on their crops using an iPhone.
The iPhone application allows them to access information from underground sensors that detect moisture levels near the roots of crops.
The underground sensors aren't cheap. Each sensor station, consisting of multiple sensors in a field, costs $5,000, and the family currently has 20 of them. They've helped shorten watering times, stressing the plants just enough so they produce healthy fruit.
"We don't want to put too much on," says Sheely. "The plants go dormant with too much water, and it can slow growth. And if you put too little on, it also slows the growth. So we want to stay right in that sweet spot of growth."
California farmers grow most of the nation's fruit, nuts and vegetables. They're also discovering ways to adapt as California heads into another year of drought.
Growing Pains
Growers in California's largest farm belt, the Central Valley, have idled thousands of acres of crops this year. That's due, in part, to a historically low federal water allotment.
Some farmers have switched from water-thirsty crops like cotton, sugar beets and alfalfa to wheat, safflower and seasonal vegetables. They're also turning to drip irrigation and advanced sprinkler systems that lessen evaporation and wind drift.
The battle for water has helped underground sensors gain attention. Farmers can access information from the sensors by computer and adjust watering times accordingly.
The Sheelys farm 10,000 acres, mostly pistachios, almonds and tomatoes. They've yanked out acres of cotton and converted most of their fields to row crops fed by drip irrigation.
The iPhone application allows Zach Sheely to check his crops from anywhere, so he can pursue his other career as an opera singer. He's gone on the road to perform in San Francisco and China with the California Opera Association.
During a recent singing lesson, still in his farm work boots, Sheely perched his iPhone on the grand piano. He takes a break at one point to check on his fields. He clicks on the "charts" tab for information on the soil moisture content of his plants.
"We just turned on the water today," he says. "Looks good, just like we wanted it to."
Relieved, Sheely returns to his lesson.
The underground sensors have helped him increase the family's tomato yields, he says. In some cases he's doubled them, using less water.
California farmers are more efficient than they were 20 years ago, says Peter Gleick, co-founder of the Pacific Institute, but they're not nearly as efficient as they could be.
"The agriculture of the 20th century isn't the agricultural community we'll want in the 21st century," says Gleick. "And those farmers that are innovative and flexible and smart and efficient are the ones that are going to survive. And the other farmers are going to suffer, and they're going to moan, and they're going to potentially go out of business."
Deep Roots Love Natural Rain
Some of those innovative farmers are simply making the most of natural rainfall.
Along the California coast, tomato growers and wine makers are rediscovering the practice of dry farming. That used to be the norm in the Napa Valley before the 1960s, when overhead sprinklers were introduced. Farmers who dry-farm till the soil to seal in the moisture — and the plants grow long roots to absorb it.
Dan Lehrer and his wife, Joanne Krueger, own Flatland Flower Farm in Sebastopol, near the Northern California coast. Their business is mainly a plant nursery. But when they bought the property in 1999, it also had a lush, irrigated apple orchard, fed by groundwater from a well.
One day five years ago, Lehrer went to turn on the main valve to the well and nothing happened, he says. "No water came out. Somehow, somewhere, there's a big fat break in the underground pipes that crisscross the orchard."
The break could be anywhere, and finding it would have cost a lot of money. So the couple decided to turn off the well. And they waited.
Some of the trees started to die. Their roots, accustomed to irrigated water, were very shallow. "I definitely said on more than one occasion, 'I'm just ready to bulldoze the whole thing,' " Lehrer says.
Good thing he didn't. Eventually, most of the trees survived. "They probably survived because they had established enough roots to make it through a summer or two with no water before the roots were able to grow big enough," Lehrer says.
And something else surprised them. "They produce great fruit," says Krueger. "The trees are stressed, but the fruit is beautiful." So they started selling the fruit — also organic — at farmers markets as dry-farmed apples.
"Our customers went nuts," says Lehrer. "They're much smaller than a grocery store apple," Krueger explained. "[They're] denser, crisper, they have a sweet-tart balance." Grocery store apples are much larger, they say, because they're filled with the extra water from irrigation.
Now, Lehrer and Krueger are trying to grow new trees that will develop deep root systems from the start. And these trees will have an advantage.
Back in January, the couple terraced an acre plot with swales cut backward into the hill. When it rained in April, these swales filled with water and became one big curving puddle. This system will nurture the new trees when they are ready for replanting.
If successful, Lehrer and Krueger hope to bring certain varieties of heirloom apples to the commercial market, all dry-farmed, using their 30 inches of natural rainfall a year.
Sasha Khokha reports for member station KQED in San Francisco.