Dermatologist Offers Tips For Skin, Sun Safety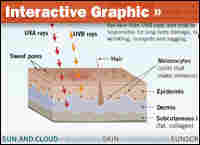 According to the National Cancer Institute, the number of people who have developed melanoma has more than doubled over the past 30 years. Dermatologist Darrell Rigel joins Fresh Air to explain the sun's effects on the skin, what "SPF" means and why skin cancer rates are going up.
A clinical professor at New York University Medical Center, Rigel has tested sunscreen efficacy for Johnson & Johnson and the Procter & Gamble Company. He is the lead editor of Cancer of the Skin, the major textbook in his field. Rigel maintains a private practice in Manhattan.