Jackson's Musical Peers Remember His Genius
Jackson's Musical Peers Remember His Genius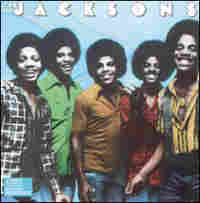 Michael Jackson: Full NPR Music Archive
Behind the scenes in the music industry, Michael Jackson was more than a star. He was a genius.
Record producer Kenny Gamble and Howard Hewett, lead singer of the 70s R&B group Shalamar, both worked closely with Jackson. They remember what it was like to share a studio with the 'King of Pop.'
'This Cat Was Bad'
In 1975, Michael Jackson and his four siblings, known as The Jackson Five, left Motown Records. They signed a new contract with CBS Records and renamed themselves The Jacksons. Kenny Gamble and Leon Huff produced and co-wrote their first two albums at CBS, The Jacksons and Goin' Places.
The Jackson Five had simply outgrown Motown, Gamble says. "They wanted to be more creative. They wanted to write and produce."
Michael Jackson and his siblings were eager to learn new studio techniques. Gamble, now a legendary producer who has written more than 3000 songs with Leon Huff, says Jackson returned the favor, revealing his extraordinary musical acumen.
Howard Hewett, who sang background vocals on Jackson's 1983 hit Pretty Young Thing, describes watching him work as an incredible experience.
"This cat was bad," Hewett remembers. "Jackson was a vocalist who could see where he wanted to go. And he could get there."
A Tarnished Legacy
Hewett says in recent years he was frustrated to see Michael Jackson's musical talents overshadowed by his eccentric style and mysterious private life.
Producer Kenny Gamble also comes to Jackson's defense, suggesting the media exploited soundbites to perpetuate the image of Jackson as a pedophile.
Gamble says that Jackson, despite his controversial image, will be remembered for his humility and the messages in his music. He calls Jackson a 'powerful entity', who was 'spreading love.'