Andy Richter: Settling In On 'The Tonight Show'
Andy Richter: Settling In On 'The Tonight Show'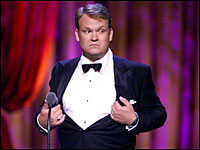 After countless appearances in shows like Bones, 30 Rock, Monk, and Arrested Development, Andy Richter steps into shoes once filled by the late Ed McMahon on NBC's The Tonight Show.
Richter took over as announcer in June, when new host Conan O'Brien stepped into the spotlight formerly occupied by Johnny Carson and Jay Leno. He joins NPR's Scott Simon to talk about what it's like to join an iconic show.
"We're taking over an institution, and we're sort of the caretakers," Richter says. "And it doesn't really belong to us; it belongs to everybody, as highfalutin as that sounds."
Richter notes that generations of viewers have come to expect a certain something from the show.
"This is not a place to run your experimental film," he says.
Though high expectations are sometimes hard to live up to, Richter says the new team has managed to strike a balance.
"If you start to just aim for what the audience wants to hear, you're already hamstrung because you don't have any freedom," he says. "So the only thing you can do is do something that you think is funny. And I don't mean, become a big artist, but do try to tickle your own funny bone as much as you can, and hope that you have a sense of humor people can relate to."
Working with celebrities has held a few surprises for the comic actor. Meeting David Bowie was one: Richter didn't expect the rock star to be so real, especially in what can be "an incredibly plastic atmosphere."
"Growing up and hearing about rock 'n' roll lore about David Bowie — he'd lose months at a time because he was on so many drugs," Richter says. "He put a cigarette out in a rock critic's ear who had given him a bad review. And he was just possibly one of the nicest, politest, chattiest, at-ease, contented people I had the pleasure to meet."
The latest iteration of The Tonight Show has its critics. Some pine for the days when guests like Peter O'Toole or Carl Sagan would come on simply to talk — not to plug their latest movie.
Richter acknowledges that celebrities draw viewers, in a time when shows must seriously compete for an audience's attention. And the big names come out for interviews "when there's something in it for them."
People like Robert De Niro and Jack Nicholson have "reached a point where they know it's ultimately kind of icky," Richter says. "It's ... close to doing door-to-door sales — which I did a little bit of. It feels like that."