Poetry From Iran, One Tweet At A Time
Poetry From Iran, One Tweet At A Time
Courtesy of Parham Baghestani
Persians are known for their poetry. So it is not surprising that as recent dramatic events have unfolded in Iran, so many Iranians who have been alerting the world have written poetically — even in their tweets.
Meet 26-year-old Parham Baghestani. I reached Baghestani in the fabled Iranian city of Isfahan, where he lives. Isfahan is known for its exquisite turquoise domes and rich history in poetry and philosophy.
These past two weeks, Isfahan was also the scene of dissent as protesters took to the streets following Iran's disputed elections. Baghestani tweeted frequently, sometimes several times an hour; he even tweeted from the voting line on June 12.
But what's striking about Baghestani is not his politics — it's his prose. His tweets range from the mundane to the spiritual, and offer a window into the psyche and everyday life of an Iranian. Baghestani is an engineering student and Web developer specializing in e-learning and user-interface engineering. Here's a translation from his twitterverse — or better yet, his Persianverse.
It took the legendary 10th century Persian poet Ferdowsi 35 years to write his epic, the Shahnameh (Book of Kings). I asked Baghestani what Ferdowsi would have thought about Twitter.
"It's a little difficult to answer that question, but I'm sure he would use Twitter," Baghestani said. "Perhaps it would have published his poetry faster."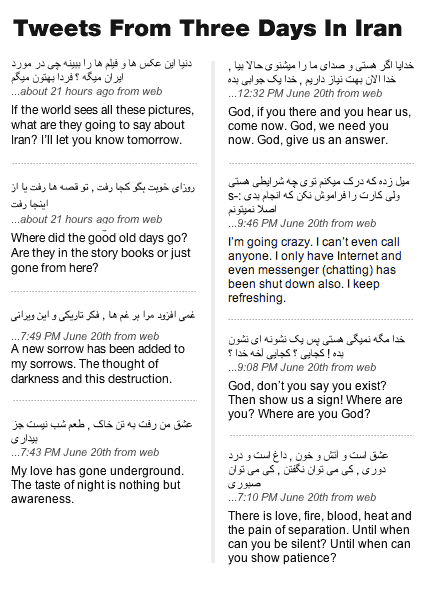 Related NPR Stories
Web Resources