In Queens, Life And Failing Economy Derail Dream
Today's 18-to-25-year-olds grew up in a period of relative prosperity. They're now trying to start their lives in one of the most challenging economic times in recent memory. This series — a collaboration with PBS' NewsHour — will feature stories reported by veteran broadcast journalist Judy Woodruff.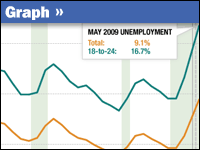 More From The Series
Joe Alonzo is the type of person who thinks ahead. When he was a teenager, he laid out a 10-year plan.
"I would go to college right around 18, graduate around 22, and probably wouldn't get married until I was 25 or 26," Alonzo tells NPR guest correspondent Judy Woodruff.
Today, Alonzo is 24 and plans to get married this year, without the college degree he'd planned for and — for the moment — without a job. The urgency of finding one has been elevated by his fiancee's pregnancy; the baby is due in January.
Alonzo's family is from the Dominican Republic. His parents moved to Queens, N.Y., when he was a baby, raising Alonzo and four younger siblings in a small brick apartment house.
When he was a teenager, Alonzo liked taking things apart and putting them back together. He took computer classes at community college, expecting to transfer to a four-year school. That was a few years ago, before the economy went bad. But his family — seven people in a three-bedroom apartment — was struggling with money.
"My father ... was self-employed, preparing income taxes ... so his income was variable," says Alonzo. "My mother was — and still is — a travel agent, and there's a certain limit to what you can make. So it was like, you know what? My mother and father were the ones who raised me, and I've got to help them somehow."
Alonzo left community college to find a full-time job. He worked for a while, helping his family pay for groceries and other bills.
Then Alonzo took a course to become a computer technician. Not exactly a four-year degree, but it gave him the credentials to make better money. He eventually did get an IT job that paid about $50,000 a year. One problem: The year was 2008, and the economy was falling apart. Shortly after he was hired, Alonzo was let go.
"It was pretty surprising actually," Alonzo says. "But even if I had a four-year degree, I could still be out of a job. In this economic situation the whole nation is facing, there are people who have their master's degrees and are still looking for work."
And so is Alonzo. He's been looking for work for five months.
His unemployment checks last through the end of the year. But he wants to find a job by the end of next month.
Both Alonzo and his fiancee, Crisely Perez, live with their parents. She's 23 and works at a shoe store.
The couple is excited about the baby — Alonzo has a sonogram image right on his BlackBerry — but it wasn't quite in his 10-year plan.
He does wish they had more time to prepare but says, "Everyone does. Even if we're sitting there with a bachelor's degree and a good, steady job and a baby comes into the picture — I think everyone at some point says, 'I wish I had more time.' "
Alonzo and Perez want to move into their own apartment soon. To afford the rent, Alonzo is thinking of taking any job he can get. Maybe he'll drive a city van for a while, he says, like his father does now.
The recession took his dad more by surprise than Alonzo, because he had great expectations for this country when he came here nearly 25 years ago.
"I guess my friends and I don't see it that way, maybe because we've read the history books. We see it as cyclical," Alonzo says.
"Since this is actually the first recession I can remember, it's preparing me, in a sense," Alonzo says. "I have to be prepared for when it goes bad again, because you're going to have a family. They're going to be dependent on you ... so I just have to be prepared for it, if it does happen again."
Alonzo's plans now sound different than the ones he made at 17: In November, a simple church wedding with a potluck dinner afterward. In January, the baby comes. As for college and his career in IT, that will happen too, he says. Eventually. Just not exactly the way he planned it.