Former Hostage On Protecting Journalists
Former Hostage On Protecting Journalists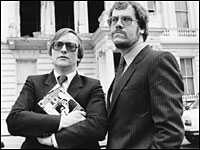 Journalist Chris Cramer knows what it's like to work under pressure. In 1980, while applying up a visa at the Iranian Embassy in London, Cramer was taken hostage by six armed terrorists, who kept him for a day and half.
Cramer's experience as a hostage evolved into an effort to protect and train journalists in hostile conditions. He is president and founding member of the International News Safety Institute, a non-profit charity devoted to the protection and safety of journalists.
Cramer has more than 40 years of experience in international broadcasting, and has worked for the BBC and CNN International.