For Sale: Your Michael Jackson Memorabilia
For Sale: Your Michael Jackson Memorabilia
Worth Thousands
See a list of Julien's Auction results and how much the Michael Jackson memorabilia sold for. The prices listed, items 315 to 335, include a 25 percent buyer's premium.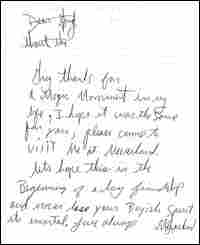 Michael Jackson: Full NPR Music Archive
Michael Jackson trading cards, old albums, autographs — really all things related to the King of Pop — are selling big right now as millions of fans are buying in.
And the timing couldn't have been better for Darren Julien of Julien's Auctions.
Six months ago, Julien began cataloging 21 pieces of Michael Jackson memorabilia he planned to auction in Las Vegas on June 26.
That, of course, turned out to be the very day after Jackson's death.
"None of us could believe it. I mean, we definitely couldn't have planned on something like this happening," Julien says. "I mean, Michael Jackson's collectibility changed overnight. He went from an icon to a legend. And we knew his value would increase, but we had no idea how high."
It wouldn't take long to find out. One of the first items up for bid, a Jackson 5 album signed by Tito, Marlon, Jackie, Michael and Jermaine, was expected to go for about $600. But the bidding went rapid fire, from $200 straight through $2,000 in the first 10 seconds, and kept rising from there. That's also what happened for other items ranging from a beaded pearl-and-crystal shirt from Jackson's 1984 Victory tour to a thank-you note scribbled by the King of Pop.
"I paid $20,000 for that scrap of paper," says Warrick Stone, who bought the note for the Hard Rock Cafe. "Something whispered in my ear that anything I spent would be recouped in good publicity in having this stuff on immediate display."
In the handwritten note, Jackson thanks an unknown "Greg" for "a magic moment in my life, I hope it was the same for you," Jackson writes. "Please come to visit me at Neverland. Let's hope this is the beginning of a long friendship and never lose your boyish spirit. It's imortal [sic]. Love always, M. Jackson."
"I thought it was a remarkable open letter that anybody could interpret the way they wanted," Stone says. "It was completely and utterly open to speculation. And it will continue to leave Michael as an enigma."
Average Fans Making A Profit
But it's not just the big guys getting in on the action of MJ mementos.
"This is a huge opportunity," says Herve Jean of Jonesboro, Ga., who sells clothing online. He says he got an e-mail offering six styles of Michael Jackson "Rest in Peace" T-shirts less than 24 hours after the pop star's death. He immediately put in an order.
"I said, 'OK, let me just see if I can get a taste of the pie as well,' " Jean says.
Indeed, fans everywhere seem to have made a beeline for their closets and attics. Faster than you could say "A-B-C, 1-2-3," they had flooded eBay and Craigslist with all of their old Michael Jackson LPs, posters, dolls and more.
"I got about 70 or 80 of — whaddaya call them? Tapestries! They are like rayon flags, with a life-size of Michael," says Paul Sprague, a housepainter from Brockton, Mass.
He says he got the goods from a neighbor who was about to throw them out a few years ago. Sprague took them to a local flea market, but "nobody would bite," he says — even at $1 a piece. Now Sprague has posted them on Craigslist for $40 each.
"I'm willing to negotiate," Sprague says with a chuckle. "I mean, it didn't cost me anything, so why not try to make a buck? I don't think [Jackson] would mind. I mean, I'm helping to keep his image going."
Another Jackson fan concedes she felt a little "creepy" about posting her beloved Thriller record, not to mention conflicted.
"As I was going to the computer to post it, I had dread in my heart," says Patti Mathis, 58, from Nashua, N.H. "I started looking at the back cover, and thinking about 'Billie Jean,' and 'The Girl Is Mine,' and I just thought about where I was during those years — and the memories of different loves — and I really didn't want to part with this."
But eventually, economics won over emotion.
"I put on my business hat," Mathis says. "And I told myself, 'Don't be silly!' There is only a small window of opportunity to sell for full value. And now is the time to let go."
Mathis posted the album for $120.
Watching Out For Fakes
If the Internet is making it easier for fans to sell their treasures, it is also making it easier for fakes.
"Within hours of Michael's passing, there were thousands of forged autographs up on the Internet," says Michael Frost of Professional Autograph Authentication Services. His company verifies autographs on eBay. "I've been working nonstop for the past five days removing things."
But for the real deal, like that album signed by all five Jacksons offered last week by Julien's Auctions, it seems the sky is the limit.
That Jackson 5 album went for $27,000, plus a 25 percent buyer's premium. That's 45 times the price that was expected. As one auctioneer put it: "Michael Jackson is now selling for Elvis Presley prices. And Michael would love that."