Mary Chapin Carpenter On Mountain Stage
Mary Chapin Carpenter On Mountain Stage
Set List
"Here I Am"
"Why Shouldn't We"
"Houston"
"Elysium"
"On with the Song"
"We're All Right"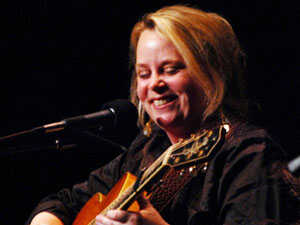 Five-time Grammy winner Mary Chapin Carpenter performs an acoustic set in her sixth appearance on Mountain Stage since 1987. When her ninth record was recorded in April 2007, Carpenter was celebrating 20 years of performing, during which she has sold some 13 million records. With John Jennings on bass, Jon Carroll on piano and Kevin Barry on guitar, Carpenter sings songs from The Calling.
Though Carpenter is best known for her smash country hits "Down at the Twist & Shout," "I Feel Lucky" and "Shut Up and Kiss Me," The Calling features some of her most topical works, from the Katrina refugees' heartbreak detailed in "Houston," to "On with the Song," inspired by the backlash after the Dixie Chicks' infamous comments about President Bush in 2003.
Since this recording, Carpenter has recorded a Christmas album and segued to the written word in a regular Washington Times column from her home in Central Virginia.
Related NPR Stories
Web Resources