Obama Outlines New Vision Of U.S.-Russia Ties
Dmitry Astakhov/AP/RIA-Novosti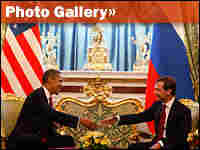 President Obama outlined Tuesday a new vision of cooperation between the United States and Russia, extending his message beyond the Kremlin to business people, nonprofit leaders, and new college graduates.
"We not only need a reset button between the American and Russian governments, but we need a fresh start between our societies," Obama said, wrapping up a two-day visit to Moscow. "More dialogue, more listening, more cooperation in confronting common challenges."
Obama has said throughout the visit that Americans and Russians have more in common than sets them apart. He told the 20-something graduates of Moscow's New Economic School that theirs is the last generation to be born in a world divided along Cold War fault lines.
"The future does not belong to those who gather armies on a field of battle or bury missiles in the ground," he said. "The future belongs to young people with an education and imagination to create. That is the source of power in this century."
Russia As Partner
Throughout the day, Obama painted a picture of the U.S. and Russia not as adversaries or competitors, but rather as partners aligned against common threats, including nuclear proliferation. In the old days, he said, the two superpowers could rely on their mutual destructive capability to prevent a nuclear strike. But if nuclear weapons spread to more countries or even terrorist groups, Obama is less confident that they will show the same restraint.
"In the short period since the end of the Cold War, we have already seen India, Pakistan and North Korea conduct nuclear tests," he said. "Without a fundamental change, do any of us truly believe that the next two decades will not bring about the further spread of nuclear weapons?"
On Monday, Obama and Russian President Dmitry Medvedev reached a tentative agreement to scale back their nuclear arsenals. Obama said it is up to the leading powers to set an example if they hope to limit nuclear material in the rest of the world.
Universal Ideals
A Russian human rights activist praised Obama on Tuesday for the example the president set with his decision to close the Guantanamo prison camp and outlaw harsh interrogation tactics. Obama promised the U.S. would continue to champion the cause of human rights in Russia and around the world.
"I don't think these are American ideals," Obama said during the meeting with nonprofit leaders. "They're universal values. They're human rights. And that's why the United States of America will support them everywhere."
Differences Remain
The U.S. and Russia continue to have strong disagreements on some issues: notably the treatment of Russia's neighbors Georgia and Ukraine, which Moscow still views as part of its "sphere of influence."
After talks with Prime Minister Vladimir Putin at his country home, Obama acknowledged that on divisive issues there won't be "a meeting of the minds anytime soon."
But the two sides will keep talking this week at the summit of the Group of Eight industrialized nations in Italy. Aides say relations with Russia have improved considerably from where they were just six months ago.
"We didn't solve everything in two days. That would be impossible," said Mike McFaul, a senior adviser to Obama on Russian and Eurasian affairs. "But I think we came a long way in terms of developing both a relationship that advances our national interests and also laying out a philosophy about foreign policy that includes engaging with society."
Asked which of the two onetime rivals had "won" the Moscow summit, McFaul said that is exactly the kind of thinking the U.S. is trying to get away from.