Fans, Family Bid Goodbye To Michael Jackson
Twenty thousand fans with tickets said their final goodbyes Tuesday to pop icon Michael Jackson at a star-studded farewell at Los Angeles' Staples Center. Thousands more jammed the streets, hoping for a glimpse of the funeral motorcade.
Michael Jackson: Full NPR Music Archive
ROBERT SIEGEL, host:
From NPR News, this is ALL THINGS CONSIDERED. I'm Robert Siegel.
MELISSA BLOCK, host:
And I'm Melissa Block.
In downtown Los Angeles today there was a star-studded and emotional farewell for Michael Jackson. Twenty thousand ticketed fans, plus Jackson's friends and family, attended the memorial service at the Staples Center. Thousands more jammed the streets hoping for a glimpse of the funeral motorcade.
NPR's Mandalit del Barco has our story.
Unidentified Man: Tickets and wristbands go ahead.
MANDALIT DEL BARCO: The crowds began gathering early this morning for the public tribute to Michael Jackson's life. William Boyce(ph) traveled from San Francisco to sit in the third row.
Mr. WILLIAM BOYCE: This is the center of the world right now. This is where all the energy is right now, all the world's media, all the eyes of the world are right in this spot. We're in the center of it all.
DEL BARCO: And like so many fans, Cheryl Bryant(ph) said she grew up with her idol.
Ms. CHERYL BRYANT: Michael Jackson will never die. If nothing else, his music will, you know, always be around.
DEL BARCO: Inside Staples Center, images of Michael Jackson through the years were projected above the stage and below, the King of Pop had a front row seat from his gold-plated casket. Then, on the very stage Michael Jackson had rehearsed his comeback concert, days before dying, his music began.
(Soundbite of song, "I'll Be There")
Mr. MICHAEL JACKSON (Singer): (Singing) See, if you should ever find someone new. I know he'd better be good to you. 'Cause if he doesn't, I'll be there.
JACKSON 5 (Group): (Singing) I'll be there.
Mr. JACKSON: (Singing) Don't you know, baby, yeah, yeah.
DEL BARCO: Mariah Carey gave one of many tear filled performances. Singer Smokey Robinson read letters of condolences from Diana Ross and this one from Nelson Mandela.
Mr. SMOKEY ROBINSON (Singer): We had great admiration for his talent and that he was able to triumph over tragedy on so many occasions in his life.
DEL BARCO: Some of the biggest names in entertainment praised Michael Jackson's life, starting as a child prodigy who could out-sing Smokey Robinson.
(Soundbite of song, "Who's Lovin' You")
Mr. JACKSON: (Singing) When I had you, I treated you bad and wrong my dear.
DEL BARCO: They all remembered the innovative dancer who introduced the world to his incredible moonwalk. Motown founder Berry Gordy recalled meeting Jackson and his brothers when they were kids. And he said the words on the minds of many here.
Mr. BERRY GORDY (Founder, Motown): I feel the King of Pop is not big enough for him. I think he is simply the greatest entertainer that ever lived.
(Soundbite of applause and cheering)
DEL BARCO: Basketball stars Kobe Bryant and Magic Johnson thanked Michael Jackson for donating so much to charities around the world. And the Reverend Al Sharpton thanked Jackson for breaking down so many color barriers. Referring to Jackson's later controversies, Sharpton had these words for Jackson's three children.
Reverend Al SHARPTON: Wasn't nothing strange about your daddy, it was strange what your daddy had to deal with.
(Soundbite of cheering)
DEL BARCO: The emotional high point came when Michael Jackson's young daughter Paris Michael Katherine took to the stage to say her own personal goodbye.
Ms. PARIS MICHAEL KATHERINE JACKSON: I just want to say…
Ms. JANET JACKSON (Singer): Speak up, speak up.
Ms. JACKSON: Ever since I was born, daddy has been the best father you can ever imagine.
(Soundbite of crying)
Ms. JACKSON: And I just want to say I love him so much.
(Soundbite of crying)
DEL BARCO: And there was also the song many said expressed what was in Michael Jackson's heart, when family, friends and fans around the world joined hands to say goodbye.
(Soundbite of the song, "We Are the World")
Unidentified Group: (Singing) We are the world, we are the children, we are the ones who make a brighter day, so let's start giving.
DEL BARCO: Mandalit del Barco, NPR News.
(Soundbite of song, "We Are the World")
Unidentified Group: (Singing) There's a choice we're making, we're saving our own lives, it's true we'll make a better day just you and me.
NPR transcripts are created on a rush deadline by Verb8tm, Inc., an NPR contractor, and produced using a proprietary transcription process developed with NPR. This text may not be in its final form and may be updated or revised in the future. Accuracy and availability may vary. The authoritative record of NPR's programming is the audio record.
Michael Jackson Remembered At L.A. Memorial
Michael Jackson: Full NPR Music Archive
On The Scene With Ticketholders
Blog Coverage
On Air
Hear NPR's Carrie Kahn on the Jackson memorial.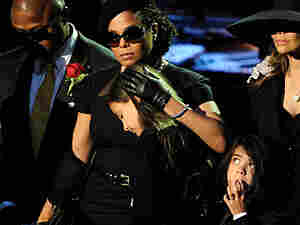 Millions of music fans said goodbye to Michael Jackson Tuesday during an emotional public memorial service that featured performances by fellow entertainers and eulogies by family and friends in Los Angeles.
Jackson's golden casket — crowned by a magnificent spray of red flowers — took center stage at the Staples Center, where the performer had rehearsed for what was to be a 50-concert comeback tour just one day before his death.
Jackson's brothers were pallbearers at the service. They each wore a gold necktie, one glittering white glove and sunglasses. The family sat together in the front row of the arena, including what was believed to be his three children.
Brother Jermaine Jackson was tearful later as he took to the stage to sing "Smile." At the close of the more than two-hour ceremony, the family came on stage, where one of the singer's three children spoke to the crowd.
"Ever since I was born, Daddy has been the best father you could ever imagine," Paris-Michael Katherine Jackson said. "And I just want to say I love him so much."
The service began with singer Smokey Robinson reading tributes from former South African President Nelson Mandela and Jackson's longtime friend Diana Ross.
"Michael was a giant and a legend in the music industry, and we mourn with the millions of fans worldwide," Mandela said in a letter to the Jackson family.
Pastor Lucious W. Smith of the Friendship Baptist Church in Pasadena gave the invocation, followed by Mariah Carey and Trey Lorenz opening the service with "I'll Be There," one of many ballads made famous by Jackson and his brothers when they performed as The Jackson 5.
"We come together and we remember the time," Smith said. "As long as we remember him, he will always be there to comfort us."
Motown music mogul Barry Gordy, the Rev. Al Sharpton and singer Stevie Wonder also paid tribute to the man known as the King of Pop.
"This is a moment that I wished I didn't live to see," Wonder said before his performance.
An estimated 20,000 people were at the Staples Center for the memorial. Free tickets were distributed to 17,500 people chosen from about 1.6 million who registered for a chance to attend the ceremony. About 11,000 people viewed the memorial from inside the sports arena, and 6,500 more watched on giant video screens across the street at the Nokia Theatre.
"Words really can't explain how I feel," said Dani Harris, a 35-year-old stay-at-home mother from Los Angeles. "I'm happy to be here, but the occasion is not so cool. I'm happy to be here and have some closure. It still doesn't seem real."
Fans began making their way to the Staples Center as early as 3 a.m.
"The family has been hurt, so I just want to come out and give some of my condolences and show some pride to Michael and his family," said Dot Cason, who flew in from Philadelphia.
Cason didn't have a ticket to the service, so she opted to join thousands of others in an area about three blocks from the action.
Los Angeles Police Department officials deployed as many as 3,200 officers for the downtown event and for a private service for the family at Forest Lawn Memorial-Parks and Mortuaries in Hollywood Hills.
The LAPD also obtained a temporary flight ban for the air space around the arena because of concern that a large number of helicopters might be using the space at different altitudes.
Television coverage showed crowds building in the pre-dawn hours Tuesday, as fans from all over the world lined up behind barricades waving signs. One man held up a British flag, and the entertainment news Web site TMZ.com showed a contingent of police walking a street near the Staples Center.
Hours before the event, vendors hawked T-shirts and other memorabilia, and fans milled about waiting for the memorial event to start.
"This is certainly a momentous occasion that is probably as big, if not bigger, than when Elvis [Presley] passed away," Steve Howard of Glendale, Calif., told Reuters news service.
"The impact he had on American music and world music crossed all boundaries," said Howard, who won a ticket in an online lottery.
About 50 theaters across the country broadcast the memorial live. In New York City, fans gathered outside the Adam Clayton Powell State Office Building to view the tribute on a giant video screen — and fans around the world watched the tribute live on the Web.
Jackson, who was 50, was to be buried at a private service for the family sometime Tuesday.
The pop star died June 25, two hours after he was found in cardiac arrest at his Los Angeles mansion. Los Angeles police and the Drug Enforcement Administration are investigating Jackson's death amid rumors that he may have overdosed on prescription medication. At least two autopsies — one ordered by the family — have been performed. Results of toxicology tests have not been announced, and may not be ready for several more weeks.
Last week, Los Angeles Superior Court Judge Mitchell Beckloff named Jackson's mother temporary guardian of the singer's three children — Prince Michael Jr., 12; Paris-Michael Katherine, 11; and Prince Michael II, 7.
Beckloff had initially named Katherine Jackson administrator of the singer's estate, but that was changed when a will surfaced that signed by the singer in 2002. As stipulated in the will, entertainment attorney John Branca and music executive John McClain were named executors of the estate. Another hearing is set for Aug. 3.
With additional reporting by NPR's Carrie Kahn in Los Angeles and wire services.