Afraid To Fly? Try Living On A Plane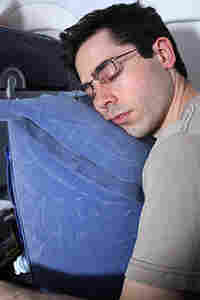 On Our Soapbox Blog
More Of Malkoff's Journeys
Mark Malkoff is afraid of flying. Or, at least, he used to be.
The comedian and writer, who once spent a week living in an Ikea store, just finished living on an airplane for 30 days straight. He took 135 scheduled flights in a month, setting a world record.
Malkoff recently emerged and says it feels good to be on the ground.
"It was challenging, but it was pretty incredible," Malkoff says. With two bags of toiletries and clothing, Malkoff slept on the plane alone at night and used baby wipes to stay clean. In the morning, he'd take a jog in the aisles, then wash his hair in the airplane bathroom.
AirTran footed the bill for Malkoff's travel therapy, even rolling out a plane with his image pasted across the fuselage.
Malkoff says one-third of all Americans have a fear of flying, but he calls it an irrational fear. "I talked to all the AirTran pilots and they all kind of were my therapists; they all coached me through."
They told Malkoff things like "turbulence is like being in the ocean and going over a wave — it's like driving over gravel."
Between their advice and flying 14 hours a day, every day, Malkoff found his fears fading after about a week and a half. And he started to have fun.
"I would go on the tarmac briefly, once a day, to switch planes," he says. In Charleston, S.C., they threw him a tarmac pool party.
In Flint, Mich., the fire department took pity on him. "They hosed me down on the tarmac — which was the cleanest I was the entire month."
Other passengers took interest in their fellow traveler, offering advice and playing games. "I would get on the intercom and we would play bingo," Malkoff says. Sometimes they would play Twister.
"People have this stigma about flying that can be negative," he says. "We made it fun."
One of his favorite pastimes was the "toilet paper experiment." He'd stick one end of a roll in the toilet and unroll the rest down the aisle to the back of the plane. Then he'd flush and the entire roll would be sucked down in about three seconds. "Apparently mechanics do it all the time," Malkoff says.