Swat Valley Refugees Begin Journey Home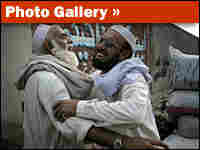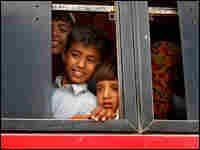 In Pakistan, the journey back home for hundreds of thousands of families who fled the army offensive against the Taliban has begun. In the first phase of the government's repatriation plan, only a fraction of the 2 million people displaced by the fighting in the Swat Valley and surrounding districts made the trip Monday.
In the early morning heat and dust of the Jalozai refugee camp, buses lined up to take the first group of 149 families back home. They were a trickle of the 4,000 families at the camp, most from the mountain- and stream-filled valley.
Nothing prepared them for this camp on a flat, baked spot of 100-plus-degree temperatures, a four-hour drive south of the Swat Valley. Overcome at the prospect of returning home, tears streaked the face of one woman. She told a reporter that modesty dictates that she be known simply as the sister of Shaukat Ali, her displaced brother.
"We are very happy to be going back," she said, her face expressing a mixture of grief and relief. "I have not spent a single contented day here. May God have mercy on these camp dwellers and guide them home. Life here is nothing but helplessness."
A Necessary Misery
The exodus from the Swat Valley was one of the biggest displacements of people in recent times. Millions fled their homes as government troops took on the Taliban in an offensive launched in late April. The turmoil laid bare government ineptitude.
But the army says its offensive has dislodged the Taliban. For all the misery it caused, Swat Valley returnee Juma Gul says the fighting was worth it.
"It was necessary because these terrorists weren't going to leave without a fight," he said. "They were on the march, slitting throats and beheading people. They were terrorizing the population, so the army had to come in to remove them."
But none of the Taliban's top leadership has been captured or killed in the offensive that the military says is in the mop-up stage.
Some Returnees Doubtful
As Burkht Sultan, a widow, prepared to board the bus back to Swat with her nine children, she said she is not convinced that the army has eliminated the militants. She is fatalistic.
"We have resigned ourselves to death in returning home. Whether we live or die, we have no other option," she said.
Sultan adjusted her white headscarf and noted with skepticism that returnees were given their food packages and fans this day only because government officials had come to visit. Under tight security, police frisked people boarding the buses and helicopters buzzed overhead.
But not everyone has been given their allotted food, or the promised cash assistance of 25,000 rupees, about $300. Without it, people are holding out.
A young bearded man named Anwar Ali sorted through them.
"You're not going if don't get anything, right? So, you are refusing?" he said to one man.
Ali sounded abrupt but passed no judgment on those who declined to return home without some cash. Residents are returning to a ravaged economy in Swat.
Akhtar Mohammad, 25, is a father of one and a refusenik.
"We can't trust them," he said. "If the government hasn't given us the resources here where the situation is normal, how can I expect them to give it to us in the middle of that confusion back home?"
Bittersweet Homecoming
Ashad Hussein recently visited his home in Swat to scout whether he could go back permanently. He will, but his trip provided a glimpse into the precarious security back home.
"The other day, the army was telling the police not to flee and to help normalize the situation," he said.
Fears of a security vacuum also have many adopting a wait-and-see attitude. For those who do go back, the homecoming is bittersweet.
While smiling children wave from the buses, their parents sit subdued. Two months in a sweltering camp contending with their upended lives has taken its toll. And the days ahead back home in Swat Valley are filled with uncertainty.
Junaid Kahn contributed to this report from Camp Jalozai.