In The Hot Seat, Sotomayor Is Model Of Judicial Cool
Special Coverage Of The Second Day Of Confirmation Hearings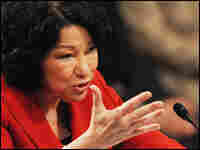 Nicholas Kamm/Getty Images
Sonia Sotomayor has been described as a judge who doesn't hesitate to challenge lawyers to back up their assertions or to engage from the bench in the finer points of law and precedent.
Put it this way: No one who has seen her in action has ever described the Bronx-born Sotomayor, 55, as a milquetoast during her 17 years as a district and an appeals court judge.
That straight-up judicial personality was on full display Tuesday as the nation — and senators on the Senate Judiciary Committee — got their most extensive view yet of the woman on track to become the first Hispanic member of the U.S. Supreme Court.
President Obama's first nominee to the high court remained unflappable, almost compulsively taking notes, during a barrage of aggressive and persistent questions from Senate Republicans about her most controversial decisions and off-bench statements, most regarding her Puerto Rican ethnicity.
But she did not hesitate, in responses forceful and deliberate, to push back on assertions made by GOP senators whom she suggested were making broad generalizations about her past, narrower court decisions on issues ranging from gun control to reverse discrimination.
And she rebuffed repeated suggestions by ranking Republican Sen. Jeff Sessions of Alabama that her past statements strongly hint that ethnicity and gender would color her decisions as a member of the high court.
"I believe my record of 17 years demonstrates fully that I do believe that law — that judges must apply the law and not make the law," she said slowly and pointedly. Sessions suggested that her judicial philosophy "goes against the American ideal."
'We're Not Robots'
Pushed by Sessions to explain what she meant when, in a number of speeches, she referred to the importance of identity and life experience — being a "wise Latina" — in considering cases, Sotomayor said that her comments have been taken out of context from inspirational speeches she'd given to young Hispanics.
She did, however, acknowledge that at times her "rhetorical flourishes" may have fallen flat.
But Sotomayor, raised in a New York City housing project and educated at Ivy League schools, said that she and other judges have an obligation to examine how their life experiences may affect their delivery of justice — not so it informs their decisions, she said, but so it doesn't infect them.
"We're not robots who listen to evidence and don't have feelings," she said. "We have to recognize those feelings and put them aside."
"That's what my speech was saying," she said, referencing a 2001 address in which she said about race and gender discrimination cases: "I would hope that a wise Latina woman, with the richness of her experiences, would more often than not reach a better conclusion than a white male who hasn't lived that life."
"I think the system is strengthened when judges don't assume they're impartial, but when judges test themselves to identify when their emotions are driving a result," she told senators, "or their experiences are driving a result and the law is not."
Sotomayor also used a just-the-facts-ma'am approach to defend an appeals court decision she joined that rejected a reverse discrimination claim by white firefighters in New Haven, Conn.
The firefighters, who challenged the city's decision to jettison results of a promotions test because no African-Americans scored high enough to advance, appealed their case to the Supreme Court, which recently ruled in their favor — and ordered the city to find a better test.
The appeals court decision was based on existing precedent, she said; the Supreme Court "as is its prerogative, established a new, different standard for the city to apply." Case closed.
Drama?
There were times when Sotomayor's accent and use of her hands to tell a story betrayed her New York roots. A Yankees fan, she spoke with passion about her love for baseball. And she also seemed to relish a discussion, prompted by committee Chairman Sen. Patrick Leahy, a Vermont Democrat, about the details of a made-for-television case she handled more than two decades ago as a Manhattan prosecutor.
The so-called "Tarzan" case involved a murderer who used, as Sotomayor said, "acrobatic efforts" that included swinging from ropes to enter apartments and confront his victims.
Her prosecution of the case, and seeing its effects on the victims' families, she said, brought to life "the tragic consequences of needless death."
Republicans had predicted that Democrats would endeavor to make Sotomayor's hearings as boring as possible.
While high court nomination hearings in recent years have become more about the script than the outcome — and this one is no exception — having Sotomayor at the witness table has provided at least some sustained drama. And not just because of the historic nature of her nomination, but also because everyone is getting a full view of the judge and her famous judicial temperament. The one that early critics predicted — prematurely, it would appear — could be her downfall.