Pittsburgh's Morse Code Message Gets Jumbled
Pittsburgh's Morse Code Message Gets Jumbled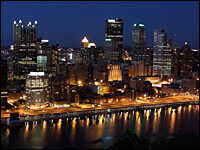 The YouTube Videos
See the videos Tom Stepleton recorded of the errant Morse code messages beamed from Pittsburgh's Grant Building.
Every night since March 1929, a bright, red beacon has flashed on the Pittsburgh skyline. The beacon sits atop the historic Grant Building and, in international Morse code, spells the city's name. At least, that's what it's supposed to do.
While waiting to see this year's Fourth of July fireworks with friends, graduate student Tom Stepleton noticed something strange about the beacon: the letter "k."
Stepleton, who is studying at Carnegie Mellon's Robotics Institute, tells NPR's Robert Siegel that his Morse code may have been rusty, but he had no trouble recognizing the errant "k" because his sister's name begins with the letter.
But the "k" wasn't the only problem in the message. There were three errors, says Stepleton. Instead of "Pittsburgh," the beacon spelled "Pitetsbkrrh."
The beacon hasn't always been wrong. Stepleton himself can vouch for it being correct as recently as two years ago.
When asked how the code could have gone so wrong, Stepleton says time is the likely culprit.
"If the system is still using 1930s-era technology, the actual generation of the dots and dashes is probably electro-mechanical," he says.
And that means the electrical contacts that create the beacon's blink can be tarnished or moved out of place over time.
When Stepleton first noticed the wayward beacon, he posted a video of it on YouTube and contacted the Pittsburgh Post-Gazette.
NPR asked Stepleton to return for another look at the beacon Monday night to see if the message had changed.
Indeed, it had: Instead of "Pitetsbkrrh," it read "Tpebtsaurgh."
The Grant Building and its beacon are owned by McKnight Property Management. A representative told NPR that the device producing the incorrect code has been sent in for repair.
But there is no word yet when the beacon will once again spell P-I-T-T-S-B-U-R-G-H.