California's Governor: Just A Guy Passing Through?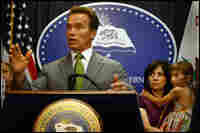 Robyn Beck/AFP/Getty Images
While California lawmakers hope to find a solution soon to the state's financial problems, the state's finances are likely to be central to Gov. Arnold Schwarzenegger's legacy. The governor is nearing the end of his term with 18 months left in office.
And some now wonder whether Schwarzenegger underestimated the depth of the Golden State's problems — and overestimated his ability to fix them.
In his inaugural address in November 2003, Schwarzenegger made a pledge: "I did not seek this office to do things the way they've always been done. What I care about is restoring your confidence in your government."
At the time, Californians were angry at the state's crumbling finances. So much so, they had fired incumbent Gov. Gray Davis and looked to Schwarzenegger for a fresh start.
And yet, six years later, the state faces an even worse fiscal crisis. This one was created on Schwarzenegger's watch.
"He is seen as part of a system which isn't working for Californians," says Mark Baldassare, who conducts polls for the nonpartisan Public Policy Institute of California.
This spring, the governor's job approval rating sunk to 33 percent — his lowest ever.
"For the average Californian, it seems very much like business as usual, whether it's Gov. Schwarzenegger or somebody else," Baldassare says.
Unrealistic Expectations?
That cynicism is striking, given what Californians expected of the larger-than-life movie star who promised to clean house. But those expectations may have been unrealistic.
"They wanted the 'Terminator,' but at the same time they just wanted things to work in Sacramento so they didn't have to hear about it every night on the news," says Rob Stutzman, a former deputy chief of staff to Schwarzenegger. He calls it the "Arnold Paradox" — a demand that Schwarzenegger be both the slayer of the status quo and a consensus builder. That's a stunt not even the action hero governor could pull off.
In 2004, Schwarzenegger gave the Legislature an ultimatum: Reform California's beleaguered worker's comp system, or he would ask voters to do so. Lawmakers compromised, and former adviser Stutzman says that shaped what happened next.
"The formula worked, and so it made sense to try to employ that same formula for the next round of reforms," Stutzman says.
In 2005, Schwarzenegger demanded reform of the budget process, and again threatened to go directly to the ballot if the Legislature didn't get on board. This time, there was no political deal.
That led to a bitter election where the governor was branded a right-wing ideologue and suffered his first defeat in his short political career.
"The bottom line is that we didn't win," Schwarzenegger said. "We've just got to go and now look at the reality of it. This is an adjustment — we have to shift gears."
Challenges With The Political Establishment
That shift was dramatic. Schwarzenegger shifted his focus to issues he could embrace, like global warming. He also went along with a sizable increase in spending, more than $10 billion on his way to re-election in 2006.
Ever since, Schwarzenegger has vacillated between calling legislators his partners, and criticizing them for not doing their job on the budget.
"You know, I think most people in the Capitol get whiplash every time they see him, because they never know where he's coming from," says Democrat Steve Maviglio, who was an adviser to both the former speaker of the California Assembly and former Gov. Gray Davis. Maviglio says Schwarzenegger has never mastered the art of persuasion inside the state Capitol.
"I mean, the governor has an outstanding outside game," Maviglio says. "It's his inside game that's been his failing. The 120 people who work with him every day in the building have no respect for him, Republicans in his own party less so than Democrats."
But it's also possible Schwarzenegger played into the hands of California's political establishment. That's the assessment of Joe Canciamilla, a moderate Democrat and former state Assembly member.
"He just simply got overcome by trying to take on too many things too quickly, and underestimating the strength of the forces that were arrayed against him," Canciamilla says.
'I'm Just Passing Through'
Now, Schwarzenegger seems to have redoubled his efforts on the current budget crisis as perhaps his last, best chance to address the problems that brought him into office in the first place.
The governor is now demanding changes to social programs and public employee pension benefits, even though the savings may not be realized until after he leaves office. Last week, he explained why.
"My whole life, I always fought for things that were about me; my body, my muscles, my career, my makeup, my hair, my this, my that and all those kinds of things, you know, how much money I make and so on," Schwarzenegger said. "But now, this is about something much bigger than me: California. I'm just passing through. I'm one of the guys that passes through here."
The idea that Schwarzenegger is now just a guy passing through may say it all. Not only about how the job of governor has changed him, but about whether anyone has what it takes to end California's forever cycle of boom and bust.
John Myers reports for member station KQED in Northern California.