Senate Moves Closer To Sotomayor Vote
Karen Bleier/AFP/Getty Images
Day 4 Analysis
Special Coverage Of The Fourth Day Of Confirmation Hearings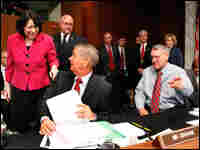 Audio: Thursday's Hearing Highlights
Sen. Dianne Feinstein (D-CA) Inquires About Being A Role Model
Sen. Lindsey Graham (R-SC) Asks About 'Identity Politics'
Sen. Al Franken (D-MN): 'Why Do You Want To Be A Supreme Court Justice?'
Sen. Jeff Sessions (R-AL) Compliments Sotomayor, Says GOP Won't Filibuster
Firefighter Frank Ricci Tells His Story
Get A Wrap-Up At Night: Can't follow the proceedings live? Catch up at night with NPR's one-hour wrap-up and analysis of Wednesday's hearing. Hear it live at npr.org starting at 7 p.m. EDT or come back later for a download.
Judge Sonia Sotomayor appeared poised to become the nation's first Hispanic Supreme Court justice Thursday, with Republican senators on the panel vetting her nomination suggesting her confirmation seemed likely.
Alabama Sen. Jeff Sessions, the ranking Republican on the Senate Judiciary Committee, said the GOP would not attempt to block or filibuster a vote on her nomination. "I look forward to you getting that vote before we recess in August," he told Sotomayor during her fourth appearance before the committee.
Republican Sen. Lindsey Graham of South Carolina told the appeals court judge that she has said things "that bug the hell out of me," but he concluded that most of her opinions were mainstream and that she is not an activist.
"You have been very reassuring here today and throughout this hearing that you're going to try to understand the difference between judging and whatever political feelings you have about groups or gender," Graham told her as the questioning wound down. Thursday marked the conclusion of Sotomayor's time before the panel.
Focus On Race And 'Ricci'
Republicans spent much of the morning questioning Sotomayor about the role of race and gender in her ruling on a controversial discrimination lawsuit filed by firefighters against the city of New Haven, Conn. In Ricci v. DeStefano, white firefighters contended that the city violated their rights when it threw out the results of a promotions exam because no black applicants scored high enough to qualify for advancement.
Frank Ricci, the lead plaintiff in the case, testified before the Senate panel Thursday. Sotomayor, who serves on the 2nd Circuit Court of Appeals, was on a three-judge panel that ruled against the firefighters. Last month, the Supreme Court overturned that ruling.
Arizona Republican Sen. Jon Kyl began the day's questioning by pressing Sotomayor on why she and the other two appellate judges issued the one-paragraph decision, without addressing the various constitutional issues raised. Critics have seized on the case as evidence that Sotomayor exhibits racial bias.
Sotomayor has defended the Ricci decision, saying that she and her colleagues were bound by legal precedent. Kyl challenged that argument, saying, "You will not acknowledge that even though the Supreme Court said there's no precedent [in overturning the ruling] ... you still insist, somehow, that there was precedent there that you were bound by?" Sotomayor replied that the high court chose to adopt a different test in its review of the case.
Continuing Kyl's questioning, Graham challenged Sotomayor's intent. "Mr. Ricci has a story to tell, too," he said. "There are all kinds of stories to tell in this country, and the court has, in the opinion of many of us, gone into the business of societal change — not based on the plain language of the Constitution, but based on motivations that can never be checked at the ballot box."
Identity Politics
The question of identity politics has dominated the hearings all week. "Do you embrace identity politics personally?" Graham asked Sotomayor on Thursday.
"Personally, as a judge, I don't embrace it in any way with respect to judging," she replied.
Republicans also challenged Sotomayor again on her comment in a 2001 speech before a law school audience at the University of California, Berkeley. In that speech, she said, "I would hope that a wise Latina woman, with the richness of her experiences, would more often than not reach a better conclusion than a white male who hasn't lived that life."
Sen. John Cornyn, a Texas Republican, said again on Thursday that it was difficult for him to reconcile Sotomayor's stance as a moderate judge with speeches that many Republicans think shows racial and gender bias.
"I regret that I have offended some of you," she said. Throughout the week, Sotomayor repeatedly said that the "wise Latina" comment was a poor choice of rhetoric, but Republicans continued to question her views on race and gender.
The committee moved on to witnesses Thursday afternoon.
Testimony From Ricci And Others
Testimony began with Kim Askew of the American Bar Association, who said her organization had given Sotomayor its highest rating. New York City Mayor Michael Bloomberg praised Sotomayor's independence and sound reasoning. Sotomayor's former boss, Manhattan District Attorney Robert Morgenthau, said her five years as a prosecutor gave her valuable insight into criminal cases and the impact of crime on victims.
Other witnesses included former FBI Director Louis Freeh and former New York Yankees pitcher David Cone, who said baseball is in "far better shape" today because of Sotomayor's ruling that ended the 1995 baseball strike.
Witnesses against the nominee included Charmaine Yoest, president of Americans United for Life. She suggested that Sotomayor's time on a Puerto Rican legal defense fund made her "unfit" to serve on the nation's high court.
But it was firefighter Ricci's testimony that generated the most interest. Ricci and fellow New Haven firefighter Lt. Ben Vargas told the committee that they were disappointed when Sotomayor and her colleagues rejected their appeal to force certification of a promotional exam.
Ricci, who has dyslexia, said he studied for months to master the exam. Vargas said he kept photos of his children in the basement where he studied as a reminder that their futures depended on him.
Neither Ricci nor Vargas directly criticized Sotomayor, refusing at one point to say that Sotomayor acted in bad faith in rendering the decision. Answering questions from Pennsylvania Democratic Sen. Arlen Specter, the men said they attended the hearing simply because they wanted the opportunity to tell their story.