Clinton Emerges, Reasserting Her Diplomatic Stature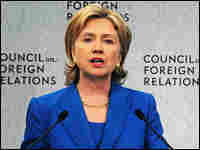 Karen Bleier/AFP/Getty Images
Secretary of State Hillary Clinton was sidelined in recent weeks by a broken elbow, which forced her to cancel a couple of trips — including one with President Obama to Russia, Italy and Ghana.
Clinton's absence led some commentators to question whether she was being eclipsed by her boss.
But on the eve of a one-week trip to India and Thailand, she returned to the limelight Wednesday with a speech at the Council on Foreign Relations outlining her foreign policy goals. She warned Iran that it had only a limited amount of time to accept Obama's offer of engagement and said the hard-line regime risks further isolation over its nuclear program.
Clinton also spoke of the Obama administration's goal to defeat al-Qaida and its allies in Afghanistan and Pakistan, and said she would travel to Pakistan this fall.
But it was clear in her comments to the Council on Foreign Relations in Washington that the broken elbow and physical therapy she has undergone to recover from the accident have been hard. Clinton tried to make light of the situation, even comparing her recovery to her efforts to repair America's image abroad.
"No doubt we lost some ground in recent years, but the damage is temporary. It's kind of like my elbow — it's getting better every day," she said, to laughter.
A Low Profile
Until Wednesday's speech, the secretary had kept a low profile, nurturing her reputation as a team player in the administration. At a town hall meeting at the State Department on Friday, she spoke about the work that has been accomplished in her six months on the job.
"Together, we've been on this job for almost half a year. We've been working hard — and some of us have the scars to prove it. And, you know, I have not been throwing sharp elbows," she said. "But we are seeing encouraging results from all of our efforts — including my physical therapy."
However, Clinton's absence from the limelight has kept bloggers and analysts wondering whether it is time for her to elbow her way back in.
"The question people are asking, somewhat unfairly perhaps, is, 'Where is Hillary?' " said Aaron David Miller, who advised six secretaries of state on Middle East policy before joining the Woodrow Wilson International Center for Scholars.
It is Obama, with his trips to Russia, Italy and Africa, who looks like America's top diplomat these days, said Miller. Clinton, meanwhile, has watched as crucial issues like the Middle East and Afghanistan have been handed off to envoys.
"In a way, she's sandwiched in the middle between the envoys on the one hand and the president on the other, and that's a model we haven't seen with respect to American foreign policy for quite a while," Miller said. "It could work, but it really does require her to begin to identify the issues that she wants to master. She needs to put herself in the middle of the mix."
Becoming More Active
With her speech Wednesday, Clinton appeared to signal that she is going to do that. In addition to her trip to India and Thailand, she spoke of co-hosting a strategic dialogue with China later this month along with Treasury Secretary Timothy Geithner, and announced her intention to travel to Pakistan this fall.
"Shortly before I started at the State Department, a former secretary of state called me with this advice: Don't try to do too much. And it seemed like a wise admonition, if only it were possible," Clinton said. "But the international agenda today is unforgiving: two wars, conflict in the Middle East, ongoing threats of violent extremism and nuclear proliferation, global recession, climate change, hunger and disease, and a widening gap between the rich and the poor."
Although she has not been traveling much with the president of late, Clinton made clear she is carrying out his priorities.
Ronald Neumann, a retired Foreign Service officer who now heads the American Academy of Diplomacy, said it is very important that there not appear to be any "daylight" between Obama and Clinton.
"You know, egos are always difficult, but he is the boss and he's the one who got elected, and she seems to be working loyally with him, which is to her credit," Neumann said.
The only thing close to a disagreement surfaced this week — when Clinton complained that it is taking too long to fill key positions because of a vetting process she called "frustrating beyond words."
"The clearance and vetting process is a nightmare. And it takes far longer than any of us would want to see," she said at a town hall meeting Monday at the U.S. Agency for International Development.
Observers say both she and Obama have supporters they would like to reward with jobs. Neumann said the Obama White House is following a long tradition of sending big donors to plum embassy posts.
"To the extent that one expected something different in Washington — that word 'change' comes up ... This is not change," he said. "Every political campaign has to pay debts."