Silence Broken On Red Army Rapes In Germany
Silence Broken On Red Army Rapes In Germany
Related NPR Stories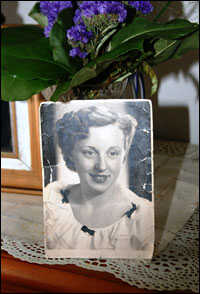 The American premiere of the German film A Woman in Berlin and a groundbreaking university study on German rape vicitms are bringing new attention to an issue long considered a taboo in German society: the mass rape of women by Soviet Red Army soldiers after the fall of Hitler's Third Reich.
The movie is based on the real diary of an anonymous Berlin woman. Historians believe some 2 million German women were raped after Soviet and Allied forces defeated Hitler's army in the spring of 1945.
For decades, German women largely kept quiet about the trauma. Now, a German researcher has embarked on a first-of-its-kind study of German rape victims.
'You Can Never Ever Forget'
After a long silence, 83-year-old Ruth Schumacher decided to tell her story this year. She vividly remembers seeking shelter from the punishing American and Soviet air and artillery strikes. She was just 18 years old when she huddled, wounded, with dozens of other civilians knee deep in cold water in an abandoned mine in Halle-Bruckdorf in eastern Germany.
Schumacher says it wasn't long after the shelling stopped and American forces had moved on that Red Army soldiers began sexually assaulting the town's young women.
"I was immediately gang raped by five Russians. The memories come back to you over and over again; you can never forget something like that. Sometimes after I talk about it, I sleep for a few hours and then wake up crying, screaming. You can never ever forget," she says.
Schumacher has forgotten little in the ensuing 65 years — the faces of her attackers, the pain. Many of her friends were also raped repeatedly. But she says they almost never talked about it.
"I warned a friend not to speak about what happened to her either," Schumacher says. "Nobody talked about that; the danger was too great."
In post-war communist East Germany, Schumacher says she was forced to sign a statement effectively denying the rapes even occurred. In the official narrative of the German Democratic Republic, the Soviets were liberators — not liberators who committed war crimes.
As a result, for many women, political fear and shame — mixed with guilt about Nazi atrocities — created a kind of code of silence.
"I didn't want to know about anybody else's experiences, and they didn't want to know about mine. My conscience was heavy enough. And I didn't want to make it worse. Of course we felt ashamed about what the Nazis had done. But one should never pay back in the same currency, right?" Schumacher says.
Lasting Impact Of Rape Trauma
But some Soviet soldiers saw it as time to pay back what the Germans had done to Soviet citizens with destruction, looting and rape. Historians estimate that at least 2 million German women were raped at the end of World War II. That figure is based on German hospital and abortion clinic records.
Many women, like Schumacher, were raped multiple times. Courts-martial and other records show that there were several hundred documented rapes by U.S. and French soldiers in 1945, but the vast majority of the rapes were carried out by Soviet soldiers in the eastern part of Germany.
Dr. Phillip Kuwert, a senior physician at the University of Greifswald's department of psychotherapy and psychiatry, estimates that about 200,000 children were conceived by native German women raped by Russian soldiers.
So far, Kuwert has interviewed 35 elderly German women who were raped in 1945. The study's main goal is not to offer the victims counseling but to document the long-term impact of rape trauma. Kuwert hopes to finally document these women's stories before all the victims die off.
"They found it very touching, most of them, and important that they get a voice. Even a late voice is better than no voice," he says.
Still, Kuwert chooses his words carefully. Germany has struggled with how to process the Nazis' genocide and terror. And until relatively recently, it was hard for researchers and scientists like Kuwert to look at non-Jewish Germans as victims.
"Before the wartime mass rape in Germany, also the German troops committed a lot of rapes mainly in Eastern Europe. And, of course, there was also a lot of sexualized violence in the concentration camps. I find it very important to mention that, not to come into any kind of doubt that I'm not trying somehow to minimalize the suffering of the people under the German Nazi occupation," he says.
Kuwert says he has received many e-mails from relatives of rape victims saying they wished he had conducted the study years earlier so their mothers and grandmothers might have taken part.
Rape Still A Weapon Of War
The movie A Woman in Berlin, which opens in the U.S. this week in Los Angeles and New York, is based on the diary of an anonymous German journalist. She chronicled her struggle to survive war-ravaged Berlin and the repeated sexual assaults by Soviet soldiers in the spring and summer of 1945.
Actress Nina Hoss plays the movie's lead character.
"The raping continues. They are everywhere, in every home. We service the Russians now. And we women will have to keep silent. Or no man will ever want to touch us again. Wretched Germany!" she says in one scene.
In the movie, Hoss' character seeks protection from a Soviet officer and a complex and strained quasi-relationship develops. Hoss believes the movie's themes resonate today as rape continues to be used as a weapon of war, including in recent conflicts in Bosnia, Rwanda, Congo, Darfur and elsewhere.
"Even nowadays it is still something society doesn't want to know about. So I hope maybe the film changes a little bit the view about this in that women have to be able to talk about it so you can, not forget it you will never forget it, but help ease the pain," she says.
For Survivors, Limited Solace
Back in Ruth Schumacher's small, cramped apartment in Leipzig, the elderly woman shows off pictures of her late husband Kurt. He served on a German U-boat during the war. She had his ashes scattered at sea. Schumacher says she is thankful to finally be able to finally talk about the rape trauma, despite the pain.
"The study has been helpful. But of course it brought back everything. And I've had a lot of sleepless nights because of it," she says.
Schumacher says the rapes left her unable to have children, and now that her husband of 49 years is dead, she has few people around to talk to.
"We didn't marry out of real love," she says, with a hint of sadness. But, she adds, "When I told him 'I'm not pure and innocent anymore', he didn't walk away from me."