Ad Aims To Distance Sen. Dodd From Lobbyists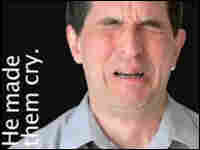 A Senate candidate can't go wrong these days by sneering at Washington lobbyists, and a recent Web ad from Sen. Chris Dodd's re-election team asserts that the Connecticut Democrat is really sticking it to 'em.
The ad comes as Dodd spearheads Senate efforts to overhaul health care and financial regulation, and reporters are scrutinizing his well-known ties to lobbyists. To pick an example close at hand, we reported that on the day his Senate committee began assembling a health care reform bill, Dodd also attended a lunchtime fundraiser for his campaign. The event was hosted by two health care lobbyists.
Our story ran on Morning Edition on July 9. The Dodd campaign posted their ad the same day. (Watch the ad at left.)
The quotes in the ad come from two stories in Roll Call, a newspaper that covers Capitol Hill. One of the stories is an inside look at the Health, Education, Labor and Pensions Committee, where the health care bill was being written. Sen. Edward Kennedy, the chairman, stepped aside this spring to undergo cancer treatment, passing the gavel to Dodd. The Roll Call story quotes lobbyists who felt dissed because Kennedy staffers had spent months meeting with them, and then the draft bill didn't reflect those meetings. The ad suggests that Dodd spurned the lobbyists.
And the two other quotes are more egregious. They come from a Roll Call story that says Dodd is stiff-arming lobbyists just so he can reposition himself for the campaign.
This is how the ad cherry-picks from the article: "Financial industry lobbyist on Dodd's leadership: 'It's very scary for lobbyists and for the industry in general.'"
What the article actually says: "'If he'd won his election and he was looking at these issues with a full six-year term in front of him, he'd be taking different positions,' the financial industry lobbyist said. 'It's a scary thing for lobbyists and for the industry in general.'"
All of this is especially strange because Dodd is known around Washington as a senator who can bring conflicting interests to the table and get bills passed. Wielding power to enact legislation used to be considered an asset.
But it's a process that involves working with lobbyists, a skill few people respect these days — least of all the Dodd campaign.