Minimum Wage Rise: More Money Or Fewer Jobs?
Minimum Wage Rise: More Money Or Fewer Jobs?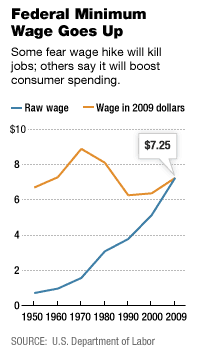 This Friday, the federal minimum wage will rise to $7.25 an hour, up from $6.55.
Conservative economists are worried that the government-mandated raise will force small businesses to lay off workers. They note that the job market has deteriorated since Congress approved the 10.7 percent pay raise two years ago. In the summer of 2007, the U.S. unemployment rate was running at about 4.7 percent. Today, it is 9.5 percent. Mandating higher wages could force some employers to cut jobs, the argument goes.
But liberal economists say this summer is the perfect time for a wage hike: It will put more money into the pockets of people who need it most. Fatter paychecks will stimulate spending and help the economy, they say. Kai Filion, a policy analyst for the Economic Policy Institute, a left-leaning research group, says this wage hike will generate $5.5 billion in consumer spending over the next 12 months.
Still, most analysts say that in an economy as large as this one, a minimum-wage hike won't have much impact. For a sense of scale, they point to the stimulus plan Congress approved earlier this year. That $787 billion package was more than 14 times larger than any increased consumer spending generated by the wage hike.
No matter what the impact on the economy as a whole, it will be helpful to many individuals. The Labor Department says roughly 5 million workers report earning less than $7.25 an hour.
The minimum-wage increase will be felt by many others as well. That's because the federal minimum wage serves as a benchmark — when it goes up, it raises the floor under all low-wage workers. So many people now earning up to $9 an hour also stand to get raises as their employers adjust their pay scales upward. That shift would affect another 10.5 million workers or so, according to the Labor Department.
David Card, an economist at the University of California, Berkeley, says much of the research done on the minimum wage is driven by political beliefs rather than data. "This is one of those ideological battlegrounds," he said. "We constantly see papers thrown up that purport to show a big difference" in employment after a wage hike, he said.
Card himself co-authored a famous study on the impact of a minimum wage hike in New Jersey's fast-food industry in the 1990s. His study found no significant change, good or bad, in the total number of jobs.
Even some conservative economists concede that studies show that modest wage hikes generally have statistically insignificant impacts on employment nationwide. But they add that for the least-skilled workers, such as teenagers, it will matter. Economist David Neumark of the University of California, Irvine, estimates that this year's wage increase will eliminate about 300,000 jobs for people between the ages of 16 and 24.
"Given the situation we're in now [with very high unemployment], raising the minimum wage just seems like a particularly bad idea," Neumark said.