Not Going Gently: Remembering Walter Cronkite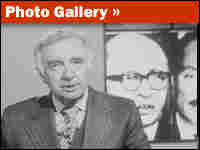 Old anchors, like old generals, typically fade away. But Walter Cronkite didn't.
He remained a national presence in retirement longer than anyone expected — certainly longer than he expected.
The surprise endurance of Cronkite and his reputation was a kind of shadow that stalked CBS News for more than 20 years.
I first met Cronkite in 2000 at the University of Texas in Austin, and I quickly noticed his brittle relationship with the network. Walter and Andy Rooney had come to the university to honor a former colleague. When Rooney decided to tape his weekly 60 Minutes piece in Austin, he wrote in a brief appearance for Walter. But when New York saw the copy, Walter's cameo got the blue pencil.
Walter's friendships ranged across eight presidents, countless heads of state and some surprises, too. I once noticed a large Chinese gong in his office hanging from a floor stand next to his desk. It was a gift from another close friend, Mickey Hart, former drummer with the Grateful Dead.
My wife and I paid a visit to Cronkite's summer home in Martha's Vineyard in 2004. Late that afternoon when we got back from sailing, his chief of staff, Marlene Adler, called from New York with the day's routine messages and invitations. I was quietly impressed with the names I heard from his end of the conversation — starting with the Clintons and the Kissingers — and even more impressed when he asked Marlene to send his regrets.
No journalistic duty is more basic than the obituary, and here we are with Walter's. Several years ago, he offered some reflections on the subject that perhaps now apply to him.
"In journalism, we recognize a kind of hierarchy of fame among the famous. We measure it in two ways: by the length of an obituary and by how far in advance it is prepared. The news services and some newspapers and TV networks often have standing libraries of some obituaries. The subjects are usually older, and often ailing."
Maybe Walter's obituary will offer a similar moment. National Public Radio listeners certainly enjoyed hearing his commentaries again. For some of us, they were a kind of insightful nostalgia; for younger people, perhaps, evidence of a storied but unwitnessed reputation. And listeners were not the only ones impressed. One very senior NPR executive wrote privately in an e-mail that a chill ran up his spine when he heard the recorded voice: "For National Public Radio, this is Walter Cronkite."
See a timeline of Walter Cronkite's life, in pictures.