Jamaica Flowers Charm The Kitchen
Growing up in Mexico City, my sisters and I used to prepare exotic meals, perfumes and potions for the inhabitants of our enchanted forest. That was our dog, the bluebird, snails, butterflies and ladybugs that happened to peek into our backyard and witness our extravagant mess. It also included any family friend who happened to stop by and become a willing victim. We sometimes offered cooking classes, too.
My mother set us up in the backyard on a big blanket with random pots and pans, while she cooked laborious weekend meals. There was a fig tree, an apple tree, a peach tree, a couple of what we called Chinese orange trees, and tons of azaleas and herbs that offered an immense array of witchcrafting material. But among our most prized ingredients were dried jamaica (pronounced ha-may-kah) flowers, known in the U.S. as hibiscus flowers, stored in a big jar in the kitchen.
Although not native to Mexico, with a contested origin between Africa and India, jamaica flowers arrived in colonial times and are now deeply integrated into Mexican cuisine. Mainly used to prepare agua de jamaica, one of the freshly flavored waters (aguas frescas), they are enjoyed daily throughout Mexico. Agua de jamaica is extremely popular because its tart flavor, also refreshing and light, complements Mexican food so well.
About The Author
Former political analyst Patricia Jinich left her job in a research policy institute to pursue her passion: Mexican food and culture. She is the official chef of the Mexican Cultural Institute in D.C., where she heads Mexican Table, a culinary program with workshops, cooking demonstrations and tasting dinners. She will appear as a guest on Paula Deen's Best Dishes Food Network show on Aug. 15. She lives in Maryland with her husband and three young sons. Read more at her blog, Pati's Mexican Table.
As a treat, and to make our wait more bearable, my mother would bring us a big pitcher of agua de jamaica. We would drink it, of course, but we would also pour it into ice cube molds with wooden sticks to make mini popsicles, or mix it with gelatin to make happy-looking jello, both of which are common in Mexico.
It was more fun, however, to sneak into the kitchen to get the dried flowers and experiment firsthand. Oh, how fascinating it was to see how they slowly infused the liquid in which they were soaking with an intensely deep and vivid red color. Their flowery and fragrant smell seemed to help with our magic spells, too.
After my husband and I moved to the U.S. in the 1990s, I would stuff them in my suitcase or ask someone to bring some when they visited from Mexico. My craving intensified while I was pregnant, since aside from their tangy taste (more welcome when carrying extra weight), their diuretic and digestive properties and richness in vitamin C and minerals are common knowledge in Mexico.
Luckily, I don't have to stuff them in my suitcase anymore. As with most ingredients used to cook Mexican food, they can be found in a store close by or with the click of a button, which is wonderful because I use plenty of them. The traditional jamaica water is a staple on my table, but most of all, I am still playing with them in my own enchanted forest or busy kitchen.
Like other adventurous Mexican cooks, I have been experimenting with and expanding their culinary uses. For example, the easy-to-make concentrate used to flavor water makes a rich and sophisticated base for a thick and syrupy sauce to drizzle over gamey meats such as duck, venison or lamb.
An even more daring approach, which I find irresistible, is to munch on these wholesome flowers. However, they are hard and rather tasteless as they are. They have to macerate for at least a couple of hours before they become deliciously chewy and release their tart and cranberrylike flavor. Thus, they are perfect for making exotic vinaigrettes.
The concentrate has also been splashed into margaritas for some time now, and I was recently surprised to find hibiscus-infused tequila at a restaurant in downtown Washington, D.C. While I am no tequila connoisseur, it tasted heavenly.
These days when my mother visits, she tries to set up my three boys on a big blanket with pots and pans in our backyard. Within 10 minutes, the potion-making ends in a wrestling match. However, since one of their favorite things is to have brownies outside, maybe next time we bake some I can drizzle sweetened jamaica syrup and whipped cream on top. That is a recipe I still haven't tried.
Hibiscus Flower Concentrate, Water And Variations
The most common use of jamaica flowers is to make a concentrate. Some cooks add lime juice; some don't. I do, as it makes the tart flavor shine even more. This concentrate can be used to make flavored water, hot tea, popsicles, shaved ice or jello, among other things.
Hibiscus Flower Concentrate (Concentrado De Jamaica)
Makes about 5 cups concentrate
8 cups water
2 cups (3 ounces) dried hibiscus/jamaica flowers
1-1/2 cups sugar, or to taste
2 tablespoons fresh lime juice
In a 6- or 8-quart saucepan, bring water to a boil. Add flowers, stir and simmer over medium heat for 10 to 12 minutes. Turn off the heat and let the mixture cool a bit.
Strain mixture into a large container (with a lid to cover later), and add the sugar and lime juice. Stir until well-dissolved.
Once the concentrate has cooled, cover well and refrigerate. It will keep in the refrigerator for months.
Agua De Jamaica (Hibiscus Flower Water)
Makes 4 to 6 servings
2 cups concentrate
6 to 8 cups water
Ice cubes
Dilute each cup of the concentrate with 3 to 4 cups water. Serve over ice cubes, or refrigerate until very cold.
For Hibiscus Flower Tea
Dilute 1/3 to 1/4 cup concentrate with 2/3 or 3/4 cup of water.
Hibiscus Flower Popsicles
For 2 cups concentrate, add 4 cups water and add 1/4 cup more sugar. Stir well, pour into popsicle molds and place in the freezer. This amount will make 24 2-ounce popsicles and will take 4 to 5 hours to freeze.
Seared Duck Breast With Hibiscus Flower And Orange Sauce
Pechuga De Pato Con Salsa De Jamaica Y Naranja
For a class I taught on modern Mexican cuisine, my sister Alisa Romano, a wonderful chef who lives in Miami, helped me tweak this sauce through a number of versions. I served the duck on top of sauteed spinach sprinkled with pine nuts and black bean with goat cheese tamales. It also goes very well with steamed asparagus and wild rice, or try it over venison, grilled rack of lamb or quail. For vegetarians, it should work nicely over grilled portobello mushrooms and can be made with vegetable instead of chicken broth.
Makes 6 servings
Sauce
4 cups jamaica/hibiscus flower concentrate
2 cups chicken broth, homemade or store-bought
Rind of an orange
1 bay leaf
3 whole cloves
5 black peppercorns
1 cinnamon stick, about 2 inches (use Ceylon or true cinnamon if you can)
1 tablespoon balsamic vinegar
1/2 teaspoon kosher salt, or to taste
Pour concentrate and broth into a medium-sized heavy saucepan over medium high heat. Bring to a boil and add the orange rind, bay leaf, cloves, peppercorns, cinnamon stick, vinegar and salt. Simmer at medium-high heat for about 35 minutes.
Bring heat down to medium-low, as the sauce will have reduced considerably and will be simmering too strongly. Keep on a low simmer until the sauce achieves a thick, syrupy consistency, about 10 more minutes. Don't let it thicken too much, as the sauce will continue to thicken as it cools. Remove the spices using a slotted spoon or strainer, and reserve in a container.
If you are not going to use it in the next couple of hours, or you made more than you need, let it cool, cover and refrigerate. Reheat before using.
Duck Breasts
6 duck breasts, 6 to 8 ounces each, with skin
1 teaspoon kosher or sea salt, or to taste
1/2 teaspoon black pepper, freshly ground, or to taste
Thoroughly rinse the duck breasts under a thin stream of cold water and pat dry. Make 6 to 8 diagonal cuts through the skin of each breast, being careful not to cut through the meat. Season with kosher salt and pepper to taste.
Preheat the oven to 400 degrees.
Heat a heavy skillet over medium-high heat. Once it is hot but not smoking, place the duck breasts skin-side down and sear for 6 to 7 minutes, until the skin is brown and crisp, and most of the fat melts and turns into liquid.
Move the breasts, skin-side up, to an ovenproof dish or pan. Place in the oven for 5 to 9 minutes, depending on how rare you like your meat: about 5 minutes for quite rare and about 8 to have a nice pink center.
Remove the breasts from the oven and let them sit for a couple of minutes before slicing. Slice diagonally along already marked skin. Drizzle jamaica and orange sauce on top.
Watercress, Goat Cheese And Pecan Salad With Hibiscus Flower Vinaigrette
Ensalada De Berros, Queso De Cabra Y Nueces Con Vinagreta De Jamaica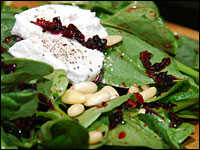 This has become my favorite way of eating or drinking jamaica flowers. After they macerate in the mix of oil, vinegar and seasonings, they absorb all of those flavors at the same time as they render theirs into the vinaigrette. Meanwhile, they become irresistibly chewy and make the salad playful, rich and interesting. If you want to take this salad over the top, crumble some freshly fried bacon on top.
Makes 6 servings
1/4 cup champagne vinegar
1/4 cup olive oil
1/2 cup safflower or corn oil
1 garlic clove, finely minced
2 teaspoons sugar, or to taste
2 teaspoons kosher salt, or to taste
1/4 teaspoon freshly ground pepper, or to taste
1 cup hibiscus flowers
12 ounces watercress, rinsed and drained
8 ounces fresh goat cheese, cut into 12 slices (can be crumbled, too)
1/2 cup pecans or pine nuts, lightly toasted
Pour the champagne vinegar into a 3- to 4-quart mixing bowl. Slowly add both the olive oil and the safflower oil as you whisk them into the vinegar with a fork or whisk. Mix in the minced garlic, sugar, salt and pepper. Add the flowers and toss them well. Let them macerate from 4 to 6 hours.
Remove the flowers with a slotted spoon, reserving the vinaigrette. Chop the flowers and return them to the vinaigrette. You may use then, or cover and refrigerate up to a week. Mix very well before using and taste for seasoning as it may have become a bit more tart as the days go by and need more salt and sugar.
Place the watercress in a salad bowl. Toss with some vinaigrette and top with goat cheese slices and toasted pecans or pine nuts.