Campaigning For Afghan Presidency Gears Up
Meet The Candidates
Afghanistan's second presidential election takes place on Aug. 20. About half of the country's estimated population — some 15.6 million Afghans — have registered to vote for the 41 candidates.
Presidential candidates registered in May, about the same time the Obama administration began increasing the U.S. military contingent in Afghanistan in a renewed effort to counter the Taliban insurgency, particularly in the volatile south. The candidates are campaigning mainly in northern, central and western Afghanistan.
Predictions: Most Western and Afghan observers in Kabul believe the election is President Hamid Karzai's to lose, despite the incumbent's waning popularity. But a growing number of skeptics here also predict the president will not get enough votes for a clear victory on Aug. 20.
Runoff Possible: If Karzai fails to get a majority of the votes on that day, a runoff election will be held. Afghan officials say a second election would take place a short time after the Islamic holy fasting month of Ramadan, which ends in late September.
Campaigning: Each candidate is entitled to use one of Afghanistan's aging fleet of Russian-made military helicopters and propeller planes to travel. Every candidate is also accompanied by about 30 police officers for protection. A few also travel by car, although the frequent roadside bombs, gun attacks and robberies on Afghanistan's highways make this a dangerous option.
The Candidates: Among the 41 candidates are medical workers, engineers, lawmakers, clerics, professors, retired generals, a former Taliban commander, former members of Karzai's cabinet, and Karzai himself — an activist who lived in exile working against the Soviet occupation and later the Taliban before returning in 2001 during the U.S.-led invasion.
Two of the candidates are women. One is a doctor who is the widow of a slain aviation minister and the other, a psychologist who serves in Afghanistan's parliament.
There are no political parties in Afghanistan, so candidates rely heavily on ethnic and tribal connections, as well as their links to popular and powerful leaders — dead or alive — to entice voters.
The leading candidates are:
Hamid Karzai, the 51-year-old incumbent, is from Kandahar province in southern Afghanistan. He is a Pashtun, Afghanistan's largest ethnic Afghan group. Karzai won Afghanistan's first presidential election in 2004 with 54 percent of the vote and enjoyed widespread international support early in his term.

But the growing Taliban insurgency and rampant government corruption have eroded Karzai's popularity. He has tried to regain support in the past year with sharp criticism of the West over the growing number of Afghan civilians dying at the hands of U.S.- and NATO-led forces.

Karzai has also made no official campaign appearances and has not said what his plans for governance would be if reelected. His opponents and critics charge he is using official ceremonies as well as government workers to promote his candidacy, something his administration and campaign deny.
Abdullah Abdullah, a former foreign minister under Karzai, was a close ally of the late Ahmad Shah Massoud, who led the Northern Alliance against the Taliban and is considered a national hero to many in Afghanistan.

Abdullah, 50, is an ophthalmologist. Born in Kabul, he is half Pashtun and half Tajik, the second largest ethnic group in Afghanistan. But Abdullah's affiliation with Massoud, who was a Tajik, makes him suspect to many Pashtuns.

Abdullah says he wants to help the families of Afghans maimed or killed in the country's long history of war and insurgent attacks. He says he wants to decentralize Afghanistan's government and make it more accountable to the people. He also wants to make the country's 34 provincial governors stand for elections rather than be appointed by the president as they are now.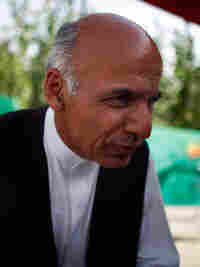 Ashraf Ghani Ahmadzai, a professor and former World Bank official from Logar province, served as finance minister under Karzai. He is 60 years old and is a Pashtun, although he is criticized by his opponents for being too "American."

Ahmadzai says he would test civil servants to ensure they are qualified to work in their posts. He seeks to simplify laws and coordinate Afghanistan's security forces under a commander in chief. He says he would designate a group of 20,000 religious, tribal, business and youth leaders who by phone would provide a daily report card on how they view security across the country.

Ahmadzai also wants to improve economic and political relations between Afghanistan and its neighbors as well as with the West.