Harvey Kurtzman: The Comics World's 'Mad Genius'
Harvey Kurtzman: The Comics World's 'Mad Genius'
Critic Milo Miles reviews The Art of Harvey Kurtzman: The Mad Genius of Comics. It's Dennis Kitchen and Paul Buhle's illustrated biography of influential artist and writer Harvey Kurtzman, the inventor of MAD Magazine.
DAVID BIANCULLI, host:
This is FRESH AIR. I'm David Bianculli in for Terry Gross.
As a cartoonist and writer, Harvey Kurtzman was a key influence on modern adult comic books and, some would say, on satiric humor in general. He created the comic book Mad, which later would become Mad Magazine. Music critic Milo Miles says that the span of Kurtzman's work has been brought into focus with a richly illustrated new biography called "The Art of Harvey Kurtzman: The Mad Genius of Comics."
MILO MILES: Since I grew up as comics fanatic, Harvey Kurtzman should've been a natural hero to me. He invented Mad Magazine. His satiric stories and pictures inspired superb underground comic artists like Robert Crumb, Art Spiegelman, and Gilbert Shelton. But when I was a teenager in the late '60s it was hard for me to find Kurtzman's best work.
The early issues of Mad that he oversaw were long gone, to say nothing of the groundbreaking realistic war stories he'd done earlier for EC Comics. Kurtzman's current work at that time was done with his favorite artist, collaborator Will Elder, namely "Little Annie Fanny" in Playboy magazine, a strip he did for 26 years. It was the most gorgeous looking few pages of comics imaginable. But it wasn't exactly slashing, burning satire.
I couldn't know that Kurtzman had a much more cynical sardonic view of sexuality than big boss Hugh Hefner, but that one was not allowed to dissent from the Playboy philosophy within the magazine itself. Kurtzman passed away in 1993, just five years after the end of "Little Annie Fanny" and it was easy for an uninformed person of my age to think, maybe the guy's overrated.
Authors Dennis Kitchen and Paul Buhle have done invaluable service to the man's legacy with "The Art of Harvey Kurtzman: The Mad Genius of Comics." Anyone should come away convinced by their argument that Kurtzman is as important as anyone who ever worked in the field. Kitchen is an outstanding cartoonist himself and I credit him with selecting the definitive showcase of Kurtzman's art from all phases of his career. This means not only masterpieces from the war comic Two-Fisted Tales and Mad, but vibrant devil may care obscurities like a satire of Archie Comics from 1949 that looks like a page from Mad, years before Mad existed.
"The Art of Harvey Kurtzman" even includes one of the finest "Little Annie Fanny" strips, "The Origin Story" which has never been published before. Kitchen and Buhle also do an exemplary job laying out Kurtzman's jagged years after he left Mad in 1956 and before he started "Little Annie Fanny" in 1962.
Kurtzman's three publications during this period were Trump, a lavish comic sponsored by Playboy that folded after two issues, Humbug, a comic magazine put out by an artist collective that soon crashed and burned, and "Help," a satire magazine that was not primarily comics.
All these magazines are made more talked about than seen for decades. Fantagraphics Books has remedied that situation in part by publishing a glorious collection of Humbug. This two-volume slip cased edition corrects the major problem with the original publication. Namely, that it was badly printed on incredibly trashy paper. This new Humbug offers teasing hints of what Mad might've become if Kurtzman had stayed on, more political, more adult, more outright brainy. Humbug probably went right over many folks heads but it seems half the folks who loved it as kids became influential cartoonists.
Humbug's failure to thrive is typical. There's a persistent pang of sadness that runs through Kitchen and Buhle's narrative. Harvey Kurtzman was a hopeless businessman who tried to run businesses. He was a perfectionist who scorned deadlines trapped in an industry that demanded work banged out on time. Ultimately, he was a man who needed a manager but would never accept anyone capable of doing the job.
Kurtzman's fundamental conviction was that cartoons should use satire to cut through fantasies rather than promote them. During his apex years in the '50s and '60s he was a powerhouse who used both his words and pictures to show a world in which the search for goodness and truth was met by nothing but liars, hustlers, bullies and fools. All of them caught up in a wickedly funny dance of delusions. No one was safe, no storytelling conventions were sacred.
Kurtzman put it best in his classic Mad satire, "Super Duper Man," where love object, Lois Pain lays it on the lines of the arrogant hero, hands off. So you're Super Duper Man instead of Clark Bent, big deal. You're still a creep. Every puffed up hot shot in the world forever needs a dose of Harvey Kurtzman.
BIANCULLI: FRESH AIR music critic Milo Miles lives in Boston. He reviewed "The Art of Harvey Kurtzman: The Mad Genius of Comics" by Denis Kitchen and Paul Buhle.
NPR transcripts are created on a rush deadline by Verb8tm, Inc., an NPR contractor, and produced using a proprietary transcription process developed with NPR. This text may not be in its final form and may be updated or revised in the future. Accuracy and availability may vary. The authoritative record of NPR's programming is the audio record.
The 'Mad' Art Of Comic Harvey Kurtzman
The 'Mad' Art Of Comic Harvey Kurtzman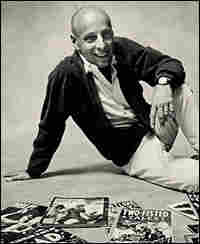 Copyright 2009 The Estate of Harvey Kurtzman; The Art of Harvey Kurtzman; Abrams ComicArts
The Art of Harvey Kurtzman
By Denis Kitchen
Abrams ComicArts
Hardcover, 256 pages
List Price: $40
Retrace the strands that led to a lot of current American satire — including The Simpsons, Saturday Night Live and The Daily Show — and sooner or later you end up at Harvey Kurtzman. A comic mastermind who created Mad Magazine and Playboy's "Little Annie Fanny," Kurtzman also happened to discover Robert Crumb and gave Gloria Steinem her first job.
Now, in The Art of Harvey Kurtzman, Denis Kitchen explores the life and art of the famous satirist, weaving together the story of Kurtzman's career with a collection of the artist's images and illustrations.
As Kitchen tells Robert Siegel, Kurtzman was, "in a sense, a one-man band" when he worked on the original Mad comic: He created it as a concept, drew most of the early covers himself and laid out every story so that artists had to follow his vision for every page.
The comic books' political jabs created controversy on Capitol Hill, where politicians called for Senate hearings to investigate the connection between comics and juvenile delinquency. When newsstands started pulling Mad from their racks, Kurtzman decided to turn the publication into a magazine.
At its peak, Mad Magazine sold 2 million to 3 million copies per month. Though the magazine expressed a sense of liberal leftism that was uncommon in its day, Kitchen insists that Kurtzman was largely apolitical.
"You can't be a good satirist and have an ax to grind. You need a certain absolute neutrality," explains Kitchen. "As Harvey often pointed out, real satire reveals a truth in society or in culture or in life in general. So you can't really be a great satirist and be a political activist."
Kurtzman may have had a knack for satire, but he was not a gifted businessman. After a dispute with the publisher, he left Mad Magazine when the publication was at its most popular, instead going to work on Trump, a magazine published by Playboy's Hugh Hefner. When Trump folded after only two issues, Kurtzman moved on to Humbug, a two-color magazine that also failed, leaving the illustrator and his partners penniless.
Eventually, Kurtzman went on to create the "Annie Fannie" comic strip for Playboy. Kitchen describes "Annie Fannie" as a "gorgeous strip" featuring individually painted panels that took a great deal of time to create. But the artist was ultimately limited by his partnership with Hefner, who had his own ideas about the direction of the strip. Further limiting was the fact that each strip had to end with the title character taking off her clothes. Still, Kitchen says, Kurtzman was happy for the gig:
"After so many failures, he was grateful for a job that paid him well. His fans thought he could have been doing much greater things, but, of course, they were never in his shoes and they never had his mortgage payments to make."