Students Graduate from Struggling Baltimore School
Students Graduate from Struggling Baltimore School
About This Series
As the federal No Child Left Behind law comes up for renewal, NPR visits Northwestern High School in Baltimore, which has been failing testing requirements for years. Over the 2006-07 school year, we examine its struggle to meet the standards set down by the law. Read a series overview.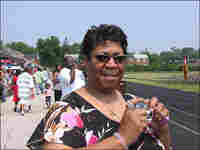 During the weekend, familiar music played as 200 seniors received their diplomas on a stage on the football field at Northwestern High School in Baltimore. After a challenging year for the low-performing urban high school that is trying to improve achievement, graduation was a time to celebrate and — for the graduating seniors — to breathe a sigh of relief.
One of those seniors, Tyrone Branch, says he has his dreams all laid out: He's going to college, and then he plans to be a stylist to the stars. For now, he's living at home.
"Temporarily," he says. "But I plan on moving out after I start making my six figures after graduating college. That's what I'm going to start with, but I'll end with millions and millions of dollars."
Outside the stadium where the graduation ceremony was held, Marlene Harris organized an army of family members who came to watch her daughter, Brittany, graduate with honors. Harris had been running around all morning, trying to get ready for a huge party.
"I'm like numb from the neck down," Harris said. "Excited, exuberant, exhausted, all rolled into one."
In the stadium, hundreds of families sweated under a broiling sun for Northwestern's 40th graduation ceremony.
Principal Tajah Gross was clearly enjoying her moment in the sun. In her first year at the helm of Northwestern, she has tried to tighten discipline and institute a uniform policy that is much disliked by students. She also has faced tensions with her staff — many have no idea whether they will be invited back next year, because the school is being reorganized.
"As you know, I love each and every one of you," she told the graduating seniors. "I wish each and every one of you much success, happiness and love."
The school's official graduation rate stands at about 82 percent: not where Gross wants it to be, but a vast improvement over the 27 percent who graduated in 1999.
As the students filed by to pick up their diplomas, parents fanned themselves furiously in the heat and screamed as their children walked across the stage. A girl sashayed before the crowd, her diploma held high; a boy jumped straight up and down in celebration about a dozen times.
Many of the graduating seniors are going on to good local two- and four-year schools. The parents and extended family members who attended were mostly just happy that their children were moving on.
Pat Minor graduated from Northwestern in 1972, when it was a strong school. She says her daughter, Amber, had a different experience.
"It was hard. Going there, you have students in class that don't want to learn and they're interrupting the class as the teacher's trying to teach, and she admitted that it's hard and she would be glad when the year was over," Minor said. "So, now we've gotten there. And I'm happy. I'm truly happy."
After the diplomas were distributed, the students had to swear their loyalty to the alumni association. And then it was over: hats flew up in the air, people went inside to get out of the heat, and 200 seniors became graduates — leaving to take their chances outside the walls of Northwestern High School.
NPR's Marisa Penaloza produced this series for broadcast.