Throw Away The Recipe; Learn The Ratio Instead
Throw Away The Recipe; Learn The Ratio Instead
Michael Ruhlman wants to free home cooks from what he calls the "shackles of the recipe."
His new book, Ratio, is about learning basic ratios. For example: 3:2:1 — three parts flour, two parts fat (like butter) and one part water — makes a basic pie crust. Add a dash of salt, and it's a savory base for a quiche. Add some sugar, and you've got a shell for cherries, chocolate cream or fresh peaches.
"I want people to understand the fundamentals of cooking," he tells host Guy Raz. He says home cooks are so focused on recipes that they don't understand the importance of ratios.
"Bread dough is basically five parts flour, three parts water. You need a little yeast, a little salt, but the amounts of those are not exact or precise," Ruhlman says. "But you need to stick to the 5:3-flour-to-water ratio and that's what gives you bread dough."
The book was inspired by a class taught at the Culinary Institute of America by famed chef Uwe Hestnar. Hestnar trained young chefs on cooking fundamentals. One afternoon, Ruhlman says, Hestnar told him, "I can show you everything you need to know in two pages."
Hestnar literally produced two pages of ratios that showed how to make custards, sauces, salad dressings, cookie or biscuit dough, sausage, mayonnaise and dozens of other basics.
"He pared down all of cooking to its very essence," Ruhlman says.
Still, he admits the book requires the home cook to experiment. "It's not going to teach you how to season your food or even which flavors go well together. You're going to have to figure that out," he says. "But it's going to give you a grounding in the fundamentals — and everything rests on the fundamentals."
Basic Mayonnaise: An Exceptionally Versatile Sauce
Ingredients
1 large egg yolk, preferably organic or farm-raised
1/2 teaspoons salt
1 teaspoon water
2 teaspoons fresh lemon juice, to taste
1 cup canola or vegetable oil
Yield: 1 cup mayonnaise
Mayonnaise is one of the great pleasures for the cook because of the transformation brought to bear on ordinary vegetable oil. It's a metamorphosis, and you, the cook, are a sorcerer. You begin with a clear viscous, flavorless liquid and, with a little acid and salt, a whisk and a yolk, create a heavenly sauce of creamy consistency and satisfying flavor. It's remarkable. You'd never want to dip that tender green bean in vegetable oil — but transform that oil into a lemony mayonnaise and suddenly you do.
The following is a basic mayonnaise, seasoned with lemon juice and salt. But even this is more ornate that is necessary. If you truly wanted a blank canvas on which to paint, you could make a mayonnaise with 1 teaspoon of yolk, a tablespoon of water and 10 ounces of oil. So remember that the following mayonnaise, even before you add additional spices or aromatics is variable. Perhaps you would like to use a white wine vinegar as the acidic/liquid component, or red wine vinegar, or lime juice, or meyer lemon juice or verjus. A mayonnaise base will keep for a week to 10 days if well wrapped (the fat can absorb fridge odors).
The following, though, is a perfect all-purpose mayonnaise, excellent on its own and easy to elevate toward virtually any dish that benefits from fat and flavor.
Directions
Combine yolk, salt, water and 1 teaspoon of lemon juice in a large bowl (the bigger the better, even for a small quantity of oil). Twist a dish towel into a ring around the base of the bowl to keep it from moving as you whisk in the oil. Measure out your oil in a cup from which you can pour it in a steady stream, such as a one-cup Pyrex measuring cup. Begin whisking the yolk, then drizzle in a few drops of oil while whisking, followed by a few more drops of oil to establish the emulsion. Whisking continuously, add the remaining oil in a thin stream. The mixture should be thick enough to cling to your whisk. If you can pour it, the mixture has broken. If this happens, pour the broken mayonnaise back into the oil cup, wipe out your bowl and add a teaspoon of water to the bowl. Drip a little of the broken mayonnaise into the teaspoon of water while whisking rapidly to establish the emulsion, then continue to add the broken mayonnaise in a thin stream.
This recipe has not been tested by NPR.
3-2-1 Pie Dough (Pate Brisee)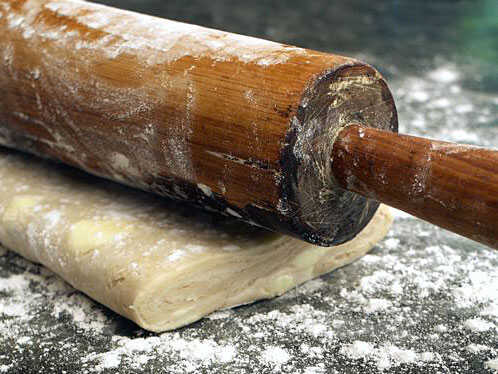 Ingredients
12 ounces flour
8 ounces butter (or lard, shortening or any combination thereof), cut into small pieces, cold or even frozen
2 to 4 ounce ice water (quantity depends on the fat — whole butter has water in it so you only need a couple ounces; shortening and lard do not contain water)
three-finger pinch of salt (about 1/2 teaspoon)
Combine flour and fat in a mixing bowl and rub the fat between your fingers until you have small beads of fat and plenty of pea-sized chunks (if you're making a bigger batch, this can be done in a standing mixer with a paddle attachment — but remember not to paddle too much after you add the water, just enough so that it comes together. Add the ice water gradually and a good pinch of salt, and mix gently, just until combined — if you work the dough too hard it will become tough. Shape into two equal discs and refrigerate for 15 minutes or until ready to roll.
The dough can be used raw with other ingredients as with an apple pie. But often you'll need to bake the shell first, as for a quiche or when cooking a liquid batter. This is called blind baking.
To blind bake a crust, you need to fill the shell with something heavy to prevent the crust from buckling up. Pie weights are made specifically for this, but a layer of aluminum foil and a pound of dried beans reserved for just this purpose does the job well. Preheat your oven to 325 degrees. Weight the bottom of your shell with pie weights or beans and bake for 20-25 minutes. Remove the weights or beans and continue baking until the crust is golden brown and cooked through, another 15 minutes or so.
This recipe has not been tested by NPR.
Quiche Lorraine
Ingredients
2 large Spanish onions, thinly sliced
canola oil as needed
1 3-2-1 savory pie dough (see recipe above)
1 pound slab bacon cut into 1/4-inch lardons*
1/2 teaspoon freshly ground black pepper
2 cups milk
1 cup cream
6 eggs
2 teaspoons kosher salt
nutmeg to taste (about 5 gratings)
1/2 cup grated Compté or Emanthaller cheese
The quiche has been misunderstood in America since it crossed the Atlantic from France and tried to fit itself into pie shell. A proper quiche shell must be deep enough to allow you to cook the custard properly, which is why it is traditionally cooked in a 2-inch by 9-inch ring mold. Ring molds are inexpensive and can be found in many kitchenware stores, but you might also use a 2-inch cake pan provided you line the bottom with parchment paper. If you cook a custard in a pie shell, even if you cook it perfectly and don't overcook it — which is easy to do — when it's so thin, the custard is too shallow to offer its fundamental pleasure, which is a luxurious texture.
A quiche can be garnished inside with anything that goes well with eggs. Traditional garnishes include spinach and mushrooms, but you might just as easily replace those with roasted poblano peppers and Mexican chorizo. Cheese is usually a component, and for the former, you'd use a Compte or similar cheese, but for the latter you might use Jack cheese.
I learned how to make quiche while working on the Bouchon cookbook with Thomas Keller, Jeffrey Cerciello and Susie Heller. I've made many quiches since then, and done all I could to elevate the quiche to its proper status in the American home kitchen. It's an extraordinary dish. It can be made a day or more ahead of serving it. It can be served hot or cold, and can be served for any meal of the day, breakfast, lunch, dinner or late-night supper.
The recipe below is for a classical quiche Lorraine, which designates a bacon and onion garnish, my favorite quiche.
Directions
Saute the onions over medium heat in a few tablespoons of canola oil. You might cover them for the first 15 minutes to get them steaming and releasing their moisture, then uncover, reduce the heat to medium low and continue cooking them until they are cooked down but not overly brown, about 45 minutes to an hour. Set them aside when they're finished.
Preheat your oven to 350 degrees. Roll out the dough to a thickness of about 1/4 inch. Place a 2-x-9-inch ring mold or a 9-inch cake pan on a baking sheet (line baking sheet with parchment if you're using a ring mold; if you're using a cake pan, line its bottom with parchment). Lightly oil the inside of your ring mold. Lay the dough into the mold — there should be plenty of dough overhanging the edges to help it maintain its shape.
Reserve a small piece of dough to fill any cracks that might open in the dough as it bakes. Line the dough with parchment or foil and fill it with dried beans or pie weights so that the crust bakes flat. After a half hour, remove the weights and parchment or foil. Gently patch any cracks that may have formed with the reserved dough, and continue baking until the bottom of the crust is golden and cooked, about 15 more minutes. Remove it from the oven and patch any cracks that may have opened; this is especially important if you're using a ring mold, or the batter will leak out. The shell should be anywhere between cold and warm when you add the batter, not piping hot from the oven.
Reduce the oven temperature to 325 degrees.
Saute the bacon gently until it's cooked as you like it (crisp on the outside, tender on the inside is best!). Drain the bacon and combine it with the onions.
In a six- or eight-cup liquid measure, combine the milk, cream, eggs, salt, pepper and nutmeg and, using a hand blender, blend until frothy. This can be done in a standing blender as well (though depending on the size of your blender, you may need to divide the quantities in half). Or you could even mix the batter in a large bowl using a whisk (beat the eggs first, then add the rest of the ingredients. The idea will be to add the ingredients in two layers, using the froth to help keep the ingredients suspended.
Layer half of the onion-bacon mixture into the shell. Pour half the frothy custard over the mixture. Sprinkle with half the cheese. Layer with the remaining onion-bacon mixture. Refroth the batter and pour the rest into the shell. Sprinkle the remaining cheese over the top. You may want to put the tray with the quiche shell into the oven and pour the remaining batter into it there so that you can get every bit of batter into the shell. You can even let it overflow to make sure it's up to the very top. Bake in the 325 degree oven for about an hour and a half, or until the center is just set (it may take as long as two hours, but don't overcook itthere should still be some jiggle in the center).
Allow the quiche to cool, then refrigerate it until it's completely chilled, eight hours or up to three days.
Using a sharp knife, cut the top of the crust off along the rim. Slide the knife along the edge of the ring mold or cake pan to remove the quiche.
Slice and serve cold, or, to serve hot, slice and reheat for ten minutes in a 375 degree oven on lightly oiled parchment or foil.
* Lardons are batons of bacon and can be as thick as 1/2-inch square. Smaller lardons are best here, but a pound of thick-cut bacon sliced into strips is also acceptable.
This recipe has not been tested by NPR.
Books Featured In This Story
Ratio
The Simple Codes Behind the Craft of Everyday Cooking
Hardcover, 224 pages |
purchase
Buy Featured Book
Title

Ratio

Subtitle

The Simple Codes Behind the Craft of Everyday Cooking

Author

Michael Ruhlman
Your purchase helps support NPR programming. How?