Lewis Libby Sentenced to 30 Months in Prison
Lewis Libby Sentenced to 30 Months in Prison
Former aide to Vice President Dick Cheney Lewis Libby is sentenced for his federal convictions on charges of lying to a grand jury and FBI investigators regarding his role in the leak of Valerie Plame Wilson's CIA identity. Libby was sentenced to 30 months in prison and a fine of $250,000.
Libby's lawyers sought to persuade Judge Reggie Walton that Libby should not go to prison at all. They submitted more than 150 letters from people attesting to Libby's service to the country and his character.
President Bush and Vice President Cheney did not submit letters. But among those who wrote were former Secretary of State Henry Kissinger; former Defense Secretary Donald Rumsfeld; Gen. Peter Pace; former Clinton administration peace negotiator Dennis Ross; and a veritable who's who of neo-conservatives, from Paul Wolfowitz to John Bolton.
Libby Sentenced to 2 1/2 Years in CIA Leak Case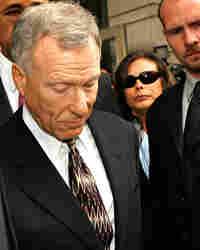 I. Lewis "Scooter" Libby, the former chief of staff to Vice President Dick Cheney, was sentenced Tuesday to 30 months in prison for obstruction of justice and perjury in the investigation into the leak of a CIA operation officer's identity.
U.S. District Judge Reggie B. Walton said he thought the evidence against Libby was overwhelming. Walton said he will decide next week if Libby will remain free during the appeal.
Before the sentence was read, Libby mentioned his career in public service and asked the judge for leniancy. "It is respectfully my hope that the court will consider, along with the jury verdict, my whole life," he said.
Prosecutors have argued that leaking a CIA officer's name could endanger the life of the operative. They urged the judge to sentence Libby to prison, saying the nature of the investigation Libby obstructed was so serious that he should serve time.
However, Libby's attorneys said probation was in order because no one was ever charged with the leak.
In the end, Walton sided with prosecutors, saying the serious nature of the investigation warranted a stiff sentence. "It's one thing if you obstruct a petty larceny. It's another thing if you obstruct a murder investigation," Walton said.
Walton noted that the criminal conviction was not in keeping with the way Libby has lived his life. But the judge said Libby also had a high level of obligation because of the opportunities he was given.
"I think the investigation that was embarked upon in this case was extremely serious, and the conduct that Mr. Libby has been convicted of that impeded that investigation is serious behavior," Walton said. "There has to be a sentence that promotes respect for the law, and individuals have to understand that when you transgress the law there are consequences for that."
Walton also fined Libby $250,000 and ordered him to serve two years of probation following his release from prison.
The events of the case date back to 2003 and the furor over the invasion of Iraq. CIA officer Valerie Plame's husband, former ambassador Joseph Wilson, was a leading critic of the White House's justification for the war.
Wilson angered the Bush administration when he publicly described a fact-finding mission he undertook for the CIA. While on the mission, Wilson said he found no evidence that Iraq had attempted to purchase materials to manufacture weapons of mass destruction.
Prosecutors said Cheney, who was then Libby's boss, instructed Libby to look for information on Wilson.
Several White House officials leaked the identity of Wilson's wife to reporters, in an attempt to convince them that Wilson was part of a CIA move to distance itself from the White House. Fitzgerald said that Libby was one of the officials involved in that effort.
But the investigation didn't get underway until Plame's name appeared in journalist Robert Novak's syndicated column in July 2003.
Libby was found to have talked about Plame to several reporters — including Judith Miller, then of The New York Times, and Matthew Cooper, then of Time magazine.
Libby told FBI investigators that he had learned of Plame's identity from NBC's Washington bureau chief, Tim Russert. Russert denied that he and Libby had ever talked about Plame. Libby later said that he had forgotten how he had first heard of Plame. He acknowledged that he had earlier heard of Plame from Cheney.
The judge did not set a date for Libby to report to prison. He said he will accept written arguments on whether Libby should remain free pending appeal and rule on that issue on June 14.
Libby is the highest-ranking White House official convicted in a government scandal since the Iran-Contra affair, although he has maintained his innocence.
There has been speculation that President Bush, who is in Europe, might pardon Libby. Tuesday afternoon, White House Deputy Press Secretary Dana Perino said the president feels "terrible" for Libby and the Libby family, but will not intervene in the case at this time.