Sudan's At-Risk Villages Get Help from Satellites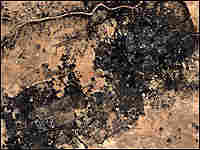 Vulnerable villages in war-torn Western Sudan are getting help from high-powered satellites.
Using a Web site and satellite cameras, Amnesty International USA plans to track developments in 12 at-risk villages by sending up-to-date images to a Web site.
The human rights organization hopes its "Eyes on Darfur" project will help prevent violence before it happens, and compel computer users worldwide to pressure the country's president, Omar al-Bashir, to let peacekeepers into the country.
Ariela Blatter, director of the Crisis Prevention and Response Center for Amnesty, said new images of the 12 villages will be added within days of each other. Amnesty and researchers chose the villages because of their proximity to important resources like water, because they have been threatened by government-backed Janjaweed militias or because of other attacks nearby.
The time frame will allow researchers to potentially spot new destruction or even prevent attacks. If researchers spot soldiers massing in an area, she said, humanitarian groups on the ground could be warned by satellite phones.
John Ukec, Sudan's charge d'affaires in Washington, D.C., says satellite technology may be advancing but that it can't tell the full story or the complexities of the war in Darfur.
"We will check (the Web site) out but, you know, it will not give me anything which is sufficient because, you know, how do I know this is somebody dressed in military uniform? How do I know that this is a Janjaweed? How do I know this is a rebel from all the other 15 factions? This is a matter of analysis here. Just looking at the data doesn't mean anything," Ukec said.
Scarce Resources, Ethnic Strife Fuel Darfur Conflict
Charles Onians/AFP/Getty Images
About the Author
Before joining NPR's foreign desk as an editor in 2001, Didrik Schanche was a newspaper and wire service reporter. From 1987-94, she was The Associated Press' East Africa correspondent based in Nairobi, Kenya.
The deadly conflict in Darfur has deep roots in a vast, arid and long-neglected region in Sudan's west, where battles over water and grazing rights stretch back generations.
The demographic shift that plays out across Africa's north helps feed the conflict. Darfur is on the leading edge of the continental demographic divide, where sub-Saharan black Africa melds with Arabic-speaking populations. And in this Muslim-on-Muslim battle in Darfur, it is the civilians who suffer.
The current hostilities erupted in early 2003, when two rebel groups - The Sudanese Liberation Army (SLA) and the Justice and Equality Movement (JEM) - attacked government targets, claiming that the predominantly African region was being neglected by the Arab-dominated government in Khartoum. The rebel movements - from different ideological backgrounds - cooperated in their fight against the government.
But during peace talks in 2006, the rebels went their separate ways. The SLA, led by Minni Minnawi, signed the accord, while the JEM, led by Mohammed Tugod, did not. Since then, the insurgents have splintered and there are now more than 20 offshoots of these groups.
Long-Standing Ethnic Tensions
Tension between the region's African farmers and Arab pastoralists has existed for decades. Wangari Maathai, a Kenyan environmentalist and winner of the 2004 Nobel Peace Prize, described the roots of the conflict.
"To outsiders, the conflict is seen as tribal warfare. At its roots, though, it is a struggle over controlling an environment that can no longer support all the people who must live on it," she said in an interview with The Washington Post.
A sense of inequity was exacerbated by years of official Sudanese government support for groups in the region who identified themselves as Arab. An administrative reorganization in 1994 divided the vast territory into three regions and put Arabs in positions of power.
The black African tribes - the Fur, Zagawa and Masalit - found themselves increasingly marginalized. People in Darfur refer to themselves as "black," and many Darfuris say that the dispute with the Arab-dominated government in Khartoum is ethnically based. Droughts and diminishing resources ignited regular communal hostilities, which came to a head with the rebel assaults in 2003.
A Scorched-Earth Response
The government responded with a scorched-earth campaign against the rebels and the tribes they came from. The Sudanese government used aerial bombardments, while government-backed Janjaweed militia attacked civilians on the ground. Janjaweed come from Arabic-speaking pastoralist communities. They herd camels in northern Darfur and cattle in southern Darfur.
The attacks razed villages, resulted in the deaths of tens of thousands - most as the result of disease and starvation - and displaced millions of people, many of whom fled across the border to refugee camps in Chad. The Janjaweed have been accused of the systematic rape and ethnic cleansing of Darfur's black residents. Sudan's government denies it supports the militia.
Shaky Peace Deals Fail to Stem Violence
The African Union brokered a shaky truce between the government and the rebels in May 2004 and sent a small force of military observers to monitor the pact. But violence continued. Citing a "consistent and widespread" pattern of atrocities, the United States in September 2004 accused Sudan's government and Janjaweed militia of genocide.
The African Union troops were bulked up to a force that eventually numbered 7,000. But the soldiers were badly outnumbered and outgunned. Funding problems mean they often went weeks without pay. Their weak mandate, combined with poor resources and insufficient numbers to patrol a region the size of France, left them incapable of halting abuses.
Fighting escalated as rebel factions splintered and new insurgent groups were formed. Civilians continued to suffer attacks from insurgents, government forces and Janjaweed militia.
In June 2007, Sudan bowed to international pressure and agreed to a detailed plan by the African Union and the United Nations to send a joint peacekeeping force of nearly 26,000 troops to Darfur. But by late 2007, that force still had not been assembled — due in part to the logistics involved in assembling such a force and also, say some, on bureaucratic roadblocks thrown up by Sudan's government.
In September, 10 African Union troops were killed when rebels overran their camp.
In a renewed effort to forge peace in Darfur, Libya invited all parties to the conflict to African Union-United Nations mediated talks in Sirte, Libya, at the end of October. But those talks foundered over the absence of the key rebel leaders, the SLA's Abdul Wahid Mohammed el-Nur and the Islamic Justice and Equality Movement's Khalil Ibrahim.
Aid Efforts Snarled by Ongoing Violence
Throughout this conflict, international aid groups have worked to care for Darfur's victims. But continuing attacks have made their jobs increasingly difficult. More than a dozen employees of international aid organizations have been killed in the violence. The lack of security has forced many relief organizations out of the region altogether, and limited access for those that have stayed.
One of the most difficult things about providing assistance to the people of Darfur is just getting there. Darfur sits in the middle of the continent, just below the Sahara Desert. Ships carrying food aid for Darfur are docking at ports on three sides of the continent, in Cameroon on the Atlantic, in Libya on the Mediterranean and to the east at Port Sudan on the Red Sea.
Once the food gets to Africa, it has to be trucked over land in all-terrain vehicles to refugee camps in Chad and Sudan. During the rainy seasons, the land becomes impassable.
The U.S. government remains one of the biggest donors of humanitarian aid to Darfur.
Bush Administration's Response to Darfur
The Bush White House became the first and only government to label the conflict in Darfur as genocide in September 2006 when then-Secretary of State Colin Powell appeared before the Senate Foreign Relations Committee. "We concluded — I concluded — that genocide has been committed in Darfur and that the government of Sudan and Janjaweed bear responsibility and genocide may still be occurring," he said.
President Bush named former USAID administrator Andrew Natsios as special envoy to Sudan, in an effort to get greater weight behind an international peacekeeping force and maintain momentum on peace mediation efforts. However, the situation is little changed. Civilians continue to be killed and uprooted in violence that has only escalated with time. And those committing the violence remain largely unpunished.
Related NPR Stories
Web Resources