Indictment Looms Over New Orleans Recovery
The U.S. House of Representatives voted to open an ethics investigation of Congressman William Jefferson. The move comes a day after the Louisiana Democrat was indicted on 16 corruption charges. Jefferson, currently serving his eighth term, stands accused of soliciting millions of dollars in bribes.
Jefferson represents Louisiana's second congressional district, which includes much of the New Orleans area devastated by Hurricane Katrina. His community still struggles to recover from the effects of the hurricane, with city and state officials actively seeking federal help for the recovery. But the indictment raises questions about Jefferson's ability to effectively champion those efforts, and to lead his district in other pressing matters. Tell Me More obtained an exclusive statement from Jefferson to NPR, in response to the looming questions.
Bill Walsh, correspondent for the New Orleans Times-Picayune, and community activist Monique Harden discuss Jefferson and the future of his district.
Official Statement from Rep. William Jefferson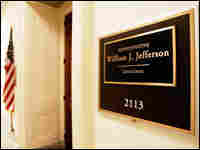 For National Public Radio-From the Office of Congressman William J. Jefferson (D-LA)
Congressman Jefferson has been and will continue to be a most effective legislator. His work on the recent supplemental appropriations measure has resulted in funding for levee repair and the rebuilding of elementary and secondary schools as well as area universities. Congressman Jefferson also worked on a provision in the supplemental that includes forgiveness of the Community Disaster Loans, which will save the City of New Orleans over $250 million.
He also worked to eliminate the duplication-of-benefits provisions that have greatly hampered the rebuilding process for scores of his constituents.
Congressman Jefferson's relationships with other members of Congress who want to play a significant role in the recovery of New Orleans and devastated communities along the Gulf Coast will not change. In a statement released yesterday, the Congressional Black Caucus said it supports "its esteemed colleague William Jefferson."
It's also noteworthy that Mr. Jefferson has served in Washington for the past 17 years, and has formed lasting friendships with numerous members, who will continue to side with him when he presents legislation to help the people of Louisiana's 2nd district.