TB Patient, Officials Testify with Differing Accounts
TB Patient, Officials Testify with Differing Accounts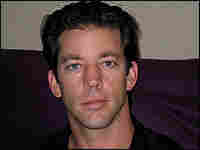 Related NPR Stories
Two congressional committees held hearings Wednesday on the travels of Andrew Speaker, a 31-year-old Atlanta attorney with extensively drug resistant tuberculosis. His transatlantic trips last month sparked an international public health scare. But while the hearings provided some answers, there are still major discrepancies.
Pennsylvania Republican Sen. Arlen Specter said at the outset of the Senate hearing that lawmakers had a fairly simple goal: "We have to make a determination of who said what to whom when, and what the emphasis was and who was responsible for this international incident."
That would be no easy task. A key point of contention remains what Speaker was told in a May 10 meeting with Fulton County Health officials to discuss treatment options. That was the meeting where he was told his TB was resistant to most first-line drugs.
Testifying via phone from his hospital room in Denver, Speaker said officials told him they preferred that he not travel, but didn't order him not to.
"I was clearly told I was not contagious and was not a threat to anyone," Speaker said.
Fulton County health official Eric Benning told CNN a somewhat different version of the meeting last week: "We did tell him in no uncertain terms that he should not travel."
But last night, on CNN's Larry King Live, Speaker's father, Ted, played a bit of the surreptitious tape he made of the meeting.
In that tape, Benning is heard telling Speaker what he could expect during treatment in Denver: "I don't know, because of the fact that you actually are not contagious, there's no reason for you to be sequestered."
This buttresses Speaker's assertions that doctors told him he wasn't a threat. And Benning's boss, Fulton County Health Director Steven Katkowsky, told the Senate committee that Speaker wasn't forbidden to travel during the meeting, because the county legally didn't have the authority.
"Action can't be taken until a violation has occurred," Katkowsky said. "I can't look at somebody and say 'They might rob a bank.' I have to wait until they rob a bank to take the necessary legal action."
Still, Katkowsky says he finds it hard to believe that Speaker could have come away from the meeting thinking it was OK for him to get on an airplane.
"So if it's a misunderstanding, it seems clear that all of the physicians involved in that May 10 meeting conveyed that he was told not to travel. So if there was a miscommunication, I'm not sure on whose part," he said."
But Speaker got on an airplane anyway. In fact, he left two days earlier than he had originally planned. He flew to Paris, then to Greece, for his wedding, followed by a honeymoon in Italy. Why hadn't he checked into the hospital in Denver instead?
"We knew it would take two to three weeks to find out which drugs I was susceptible to," he told the Senate subcommittee. "It would take a few weeks to get a bed in Denver. And as long as I'm walking around and I'm not a threat to anyone, why not just go on my honeymoon, instead of just sitting around and going to court and doing everything else?
But while Speaker was touring Rome with his new bride, tests that had been sent to the Centers for Disease Control and Prevention before he left came back. He didn't have just drug-resistant TB, but extensively drug resistant TB, an even more dangerous strain.
A CDC quarantine officer tracked Speaker down late on May 22, but again, accounts of the conversations differ.
"One of my quarantine officers who shared information about culture result had to make clear that under no circumstances should he use commercial aircraft. We also told him we were working on ways to get him back. That would take some time," said CDC quarantine chief Martin Cetron.
Speaker said the CDC officer, Dr. David Kim, said he would call back the next day with travel arrangements. But instead, Kim called Speaker's parents and said if they wanted to fly their son home, they would have to raise as much as $140,000 to hire a private jet.
Meanwhile, Kim told Andrew Speaker he should be evaluated at a hospital in Italy. But what Speaker heard was that he could end up in that hospital indefinitely. So the couple ran, first flying to Prague, then to Montreal. They drove back to the United States in a rented car via Champlain, New York. That's where a border guard — who's since been suspended — ignored a warning to detain Speaker and waved him through.
Interviewed from his hospital room Wednesday night on CNN, Speaker says he's learned some important lessons.
"Knowing what I know now... everything would have been different," he said. "If they'd have told me, instead of telling me I'm not contagious, I'd be putting my daughter at risk, I never would have got on a plane. I never would even have gone home."
Public health officials say they're going to do things differently, too. But it may take them a little bit longer to figure out how.