Trio of Multi-Talented Teens Plays Piazzolla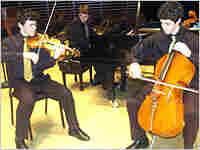 The Gray Charitable Trust Piano Trio features three talented musicians who also happen to be great friends. They met eachother at the Settlement Music School in Philadelphia.
"When I moved to Philly from Detroit in the eighth grade I didn't have many friends, but when I met these guys, everything changed," says 18-year-old violinist Ben Odhner of his trio-mates, 17-year-old cellist Michael Dahlberg and 18-year-old pianist Peter Dugan. "These guys are the best." The three teens go to different schools, but they hang out together as much as they can. "We just always have a great time together," explains Peter.
The Trio not only plays well together, but on their own each member is known for a distinctive talent.
Ben has the ability to effortlessly play any piece of music by ear. "He can hear literally anything and immediately replicate it on violin, chords and all," says Michael. Peter is known for his spot-on impersonations. "I can do Woody Allen and Marlon Brando, as well as a lot of people I know," he says. As for Mike, he's a skilled beat boxer, a talent that involves producing interlocking percussive "beats" with the mouth only. He often uses it in the a capella group he founded at his school.
All three members of the Gray Charitable Trust Piano Trio are also serious singers. They worked out some impressive 3-part harmony in order to serenade their girlfriends, who were in the From the Top audience.
They also performed "La Muerte de Angel" by the Argentinean Tango master Astor Piazzolla.