Bush Goes to Hill to Woo GOP on Immigration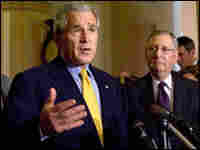 President Bush acknowledged there is still a lot of disagreement on the immigration reform bill at the end of Tuesday's lunch meeting with GOP senators, but he vowed to continue with his effort to pass comprehensive immigration legislation.
"Now is the time to get it done," he said. "It's going to take a lot of hard work, a lot of effort.
The Bush administration negotiated the controversial immigration proposal with leaders from both parties, but it has critics in both parties. The plan creates a path to citizenship for the 12 million undocumented immigrants now in the U.S. and tightens security at the border.
Many conservative Republicans say the plan is tantamount to giving amnesty to immigrants who are in the country illegally.
But the president stressed that the bill will provide for good workplace enforcement and not give automatic citizenship, while making it easier for border security agents to enforce immigration laws. "We've got to convince the American people that this bill is the best way to enforce our border. I believe without the bill it's going to be harder to enforce the border," he said. "The status quo is unacceptable."
Senate Majority Leader Harry Reid (D-NV) pulled the measure from the floor Thursday night because it fell 15 votes short of the number needed to move it on to final passage.
Reid has said he will do everything possible to return the bill to the floor for consideration, and he is looking to the president to deliver the necessary Republican votes.
After the lunch meeting, Senate Minority Leader Mitch McConnell (D-KY) said Senate Minority Leader Mitch McConnell it is too soon to tell if the president won over the votes needed to pass the bill. He said it will probably depend upon how the bill looks in its final form.
At Tuesday's lunch meeting, President Bush said he also briefed the Republican senators on his trip to Europe for the Group of Eight summit and his discussions with Russian President Vladimir Putin on the U.S. plan to put elements of a missile defense shield in eastern Europe.
With support for the Iraq war at a low point, the president has hoped that the immigration legislation would be part of the legacy he builds during his final two years in office.