Hamas Has Fatah Pinned Down in Gaza
Hamas Has Fatah Pinned Down in Gaza
Hamas fighters are on the verge of over-running the remaining strongholds of Fatah in the Gaza Strip.
The Presidential Palace and the General Intelligence Headquarters on the Gaza sea front are under attack. Fatah leader President Mahmoud Abbas remains in the West Bank, seemingly powerless to stop the warfare.
Eric Westervelt talks with Michele Norris.
Q&A: Hamas and Fatah
Hamas and Fatah are rival Palestinian factions that have attacked Israel in the past. Here's a look at the two organizations:
What is Hamas?
Hamas, an Islamist group, has pursued a policy of "armed resistance" against Israel — carried out by suicide bombing attacks on Israeli civilians — while also extending social-welfare programs to Palestinians in the Gaza Strip and the occupied West Bank. Hamas' official name is Harakat al-Muqawama al-Islamiya (Islamic Resistance Movement).
What is Fatah?
Fatah was the first exile group to launch attacks against Israel. Fatah's official name is Harakat al Tahrir al Falastini (Palestinian Liberation Movement). Fatah is the dominant member of the greater Palestinian Liberation Organization (PLO).
What are the origins of these groups?
Hamas was founded in the Gaza Strip in 1987 by Sheik Ahmed Yassin and Dr. Abdel Aziz al-Rantissi, both of whom have since been killed by Israel.
Hamas is an offshoot of the Muslim Brotherhood, a religious and political organization with branches throughout the Arab world. In 1988, Hamas wrote its charter, which calls for the destruction of the state of Israel and swears to "raise the banner of Allah over every inch of Palestine." The charter is still in effect today.
However, Hamas member Ismail Haniya — named prime minister under the unity government — has spoken of a possible long-term truce with Israel, if Israel withdraws from territory occupied after the 1967 war.
Fatah was founded by the late Yasser Arafat and a small group of Palestinian nationalists in the late 1950s. The group is a member of the PLO, a loose umbrella group of a number of Palestinian organizations founded in Cairo in the mid-1960s.
Fatah quickly became the most powerful member of the PLO, which Arafat also led.
What does the PLO think of Israel?
In 1993 the PLO officially renounced terrorism and recognized Israel's right to exist. In exchange, PLO leaders were allowed to return from exile in Tunisia and recognized as the Palestinian Authority, the governing body of the Gaza Strip and parts of the West Bank. They were also allowed to set up Palestinian security forces. Although the PLO has officially renounced terrorism, some of its member organizations have been accused of or have claimed responsibility for continued attacks.
The PLO was initially based largely in Jordan. But after fighting between PLO guerrillas and the Jordanian army in 1970, a conflict known as Black September, the PLO was forced out of Jordan. Most of the guerrillas — and Yasser Arafat — settled in Lebanon. The PLO then launched frequent attacks on Israel from their Lebanese bases, prompting two Israeli invasions of Lebanon — in 1978 and 1982.
What approach does Hamas take toward Israel?
Hamas calls for the destruction of Israel. Its armed resistance has been carried out by suicide bombing attacks on Israeli civilian buses, nightclubs and other venues. As a result the United States, Israel and the European Union have labeled it a "terrorist organization." Human Rights Watch has also criticized Hamas for its attacks on civilians.
Hamas' main claim for support among Palestinians comes from its provision of social welfare services that neither the Israelis nor Fatah provide. From its inception, Hamas has funded and developed an elaborate network of schools, orphanages, health clinics and other social services that have given it reach into every sector of its populations.
How is Fatah viewed as compared to Hamas?
Despite its violent past, Fatah is now seen as the more moderate Palestinian party. While the group's constitution also calls for the destruction of Israel, the group falls under the PLO, which has renounced terrorism. Fatah's leadership of the Palestinian Authority was seen as corrupt and inept by many Palestinians, which is the major reason for its loss of seats in the government in the 2006 election.
How have Hamas and Fatah fared politically?
In January 2006, Palestinian voters in Gaza, the West Bank and East Jerusalem voted for a new Palestinian legislature. Hamas won a major victory, taking 74 of the 132 seats, in an election deemed fair and honest by international observers. Its rival, the once-dominant Fatah party, criticized for ineffectiveness and corruption, took only 45 seats.
Fatah still controls the presidency, the highest elected position in the government. Mahmoud Abbas has held the position since January 2005. Fatah also controls roughly 70,000 police and security forces throughout the West Bank and Gaza Strip. These forces regularly clash with Hamas loyalists.
The surprise political victory in 2006 gave Hamas control of the Palestinian government. It also created a conflict with Israel and with Palestinian Authority President Mahmoud Abbas. Hamas refuses to accept Israel's right to exist and says it will not honor pre-existing treaties signed by the Palestinian Authority. In light of this, Israel, with the support of the United States and the European Union, launched a financial boycott of the Hamas-led government. Israel refused to pay the Palestinian Authority its monthly trade taxes, which Israel collects, and Washington has sought to freeze all bank transfers to the Palestinian Authority. The results deprived the authority's 150,000 civil servants of salaries for a time, but aid has continued to flow from the European Union and the United States via a specially devised "mechanism" that bypasses the Palestinian government.
How have recent events impacted the relationship between Hamas and Fatah?
In June, Hamas took control over the Gaza Strip, destroying the headquarters of President Abbas as well as other government buildings. As a result of the violence, Abbas dissolved the unity government, a power-sharing deal between the two groups that was signed on Feb. 9, 2007, and swore in an emergency government. He forced out the prime minister, Ismail Haniyeh, who is a member of Hamas. Abbas named Salam Fayyad, a Western-backed independent lawmaker, to the post.
Hamas leaders have condemned the move, making a decision not to recognize the changes, and insisted that the Fatah-Hamas unity government formed in March remains in charge of the Palestinian Authority. Haniyeh has claimed that he continues to hold the position of prime minister of the Palestinian Authority.
Leaders from the United States, Europe and Israel have spoken out in support of Abbas and his new government — and plan to restore aid to the Palestinian people.
With Hamas Controlling Gaza, Abbas Seeks Support
In Focus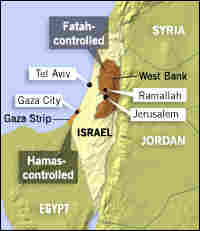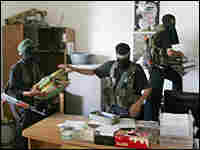 In the Gaza Strip, looters ransacked buildings and supporters of the Islamist group Hamas celebrated in the streets after its gunmen routed fighters of the Fatah movement after six days of bloody fighting that left more than 100 Palestinians dead.
Friday, Palestinian Authority President Mahmoud Abbas began forming an emergency government in the West Bank, appointing officials and courting the West's support.
Friday, the quartet of Middle East peacemakers, the United States, Russia the European Union and the United Nations, voiced support for Fatah's leader, Palestinian President Abbas, in his effort to create an emergency government after he dissolved the unity government with Hamas Thursday night.
Abbas has appointed Salam Fayad, a pro-Western independent, to be the new prime minister. But Abbas' emergency cabinet will have little or no power in Gaza.
Hamas leaders are calling Abbas' moves hollow and worthless. Hamas gunmen at a captured Fatah compound Friday said that their prime minister remains Ismail Haniyeh of Hamas.
But in Gaza, Hamas dismissed Abbas's moves as meaningless.
After Friday prayers, some 5,000 Hamas supporters crowded into Omar Muktar street in the courtyard of the parliament building in downtown Gaza City.
They were celebrating what many called a "cleansing" of corrupt "collaborators" from Fatah, the movement that has dominated Gaza for more than three decades.
Zacharia Sharnewbee was knocking down and trashing yellow Fatah flags with a long wooden stick.
"I'm doing this because Fatah is crap" Sharnewbee said, "and they collaborate with the Jews."
Other Hamas supporters celebrated their victory over Fatah forces with celebratory gunfire and the systematic looting of Fatah compounds, including the beachside presidential office complex which fell to Hamas forces last night, without a fight.
Hamas gunmen today carted off chairs, TVs and computers — even a few Fatah cars, including a van and a Mercedes-Benz.
A Hamas gunman, who gave his name as Abu Suhayb, called Hamas's victory an Islamic "liberation" of Gaza.
"By the will of God, this will bring us much closer," the man said — "not to a Palestinian state but to the Islamic state here."
Hamas captured large caches of weapons and equipment from Fatah, including heavy machine guns, ammunition and several old yet still functioning armored personnel carriers. Abu Suhayb stood next to the metal frame of an anti-aircraft gun, sunk into the sand next to the president's offices.
"It means for me a great pride for my Islam which is spreading over Gaza," Suhayb said. The anti-aircraft gun, he said, "will only be targeting the Israeli helicopters and airplanes" — not Palestinian fighters.
Across town at the Gaza home of controversial Fatah strongman Mohammed Dahlan, looters were busily and happily stripping his luxurious villa of all it contained: marble flooring, ceramic roof shingles, wiring and more.
In Mohammed Dahlan's garden Friday afternoon, a young man studiously sought to take down a palm tree. Missing windows and pieces of wood, the house was still smoldering and burning.
Dahlan led a major crackdown against Hamas in the mid 1990s; he has long been backed by the United States. One looter lashed out at the Fatah leader — who is now in the West Bank — calling Dahlan a "collaborator" who is getting what he deserves.
"All the people are hungry and he is living in a paradise here," the man said in Arabic.
Elsewhere, Hamas gunmen were protecting, not looting, the Gaza residence of President Mahmoud Abbas. Abu Mahmoud, 21, a member of Hamas' paramilitary executive force, stood guard outside Abbas' house holding his AK 47, a hand grenade clipped to his jacket. Behind him, a green Hamas flag flew over the driveway.
"This flag is reflecting the fact that Hamas did put an end to these collaborators inside our society," Mahmoud said.
The factional violence in Gaza started more than a year ago, not long after Hamas swept parliamentary elections. But in the last week, the violence grew particularly vicious, with both factions committing atrocities: Enemies were tied up and thrown off buildings; Hamas executed several captured fighters in the street; and numerous Fatah loyalists were arrested in the last day's fighting.
Today, scores of vanquished Fatah men are angry and bitter.
In what was intended as a goodwill gesture, the leaders of Hamas' main armed wing, the Izzedine al-Qassam Brigades, have announced a general amnesty for captured Fatah gunmen and security officials.
"Let today, Friday, be the day for mercy and forgiveness," said Abu Obeideh, the militant group's spokesman. He said the Brigades' Islamic principles played into its decision.
The Qassam Brigades also warned kidnappers to immediately release Alan Johnston, the BBC News correspondent who has been held captive by a Gaza clan for more than three months.
Hamas fighters say that this week, they took accomplished with weapons what they thought they had done in their election win a year and a half ago.
Gaza's streets were calm and began return to normal today. But the spasm of internal violence has left many residents shaken and worried.
That was the case for Amani, a secular woman who didn't want her full name used.
"First of all, as a woman, maybe you will think that they will force women to wear the veil," Amani said.
Amani, the mother of three teenage girls, works for a non-governmental agency. Gaza has long been more culturally conservative than the West Bank. But Amani says she wonders if Hamas, emboldened by its military win, will now slowly start to impose broader social and cultural restrictions.
Amani looked out at the thousands celebrating near her home with alarm
"I'm not comfortable at all, I'm really shocked," she said. "I don't feel that it's victory, or a kind of liberation. How stupid they are, they are happy for this kind of victory — and in a few days, they'll realize that they are going to the hell, it will not be a victory."
It is now clear that the divide between the West Bank and Gaza is complete. Fatah still dominates the West Bank, which is home to most of the Palestinian population. But the idea of the Palestinian Territories appears to be headed for a turbulent and uncertain future.
In the West Bank, Fatah – fearful that Hamas' momentum could spread there — went on the offensive. It rounded up three dozen Hamas fighters. Angry militants threw office furniture out a third-story window of the Palestinian parliament building in Ramallah and then set fire to the office of three Hamas lawmakers.
The extreme tactics of Hamas could further choke off the region from international aid. And closed borders could lead to a humanitarian crisis.
Israel, meanwhile, said it had no desire to respond militarily to the takeover of the Gaza Strip by the Islamic fighters of Hamas.
"There is no intention to re-enter that swamp, Gaza, in this situation," Israeli Housing Minister Meir Sheerit told Israel Radio.
Hours after Gaza fell to Hamas, 97 senior members of Fatah's security and administrative apparatus arrived in the Egyptian port of El-Arish, an Egyptian security official in El-Arish said. The retreating Fatah members, who fled aboard a fishing boat, were transferred to camps affiliated with Egypt's security forces, a police official in Cairo confirmed.
Hamas said it plans to take control of Gaza's crossing with Egypt. The crossing has been closed since the outbreak of fighting earlier this week. Under an Israeli-Palestinian agreement, it was monitored by European observers.
From NPR reports and The Associated Press.