Five Years of No Child Left Behind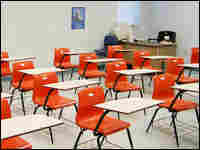 In 2002, President Bush signed the No Child Left Behind Act into law with significant bipartisan support. Five years later, many people are taking another look at its effectiveness.
The act is now up for reauthorization in the U.S. Senate. Two reporters have spent years covering the act and offer analysis on its impact on public education in America.